Molly's journey with chronic pain
Molly's journey with the chronic pain management program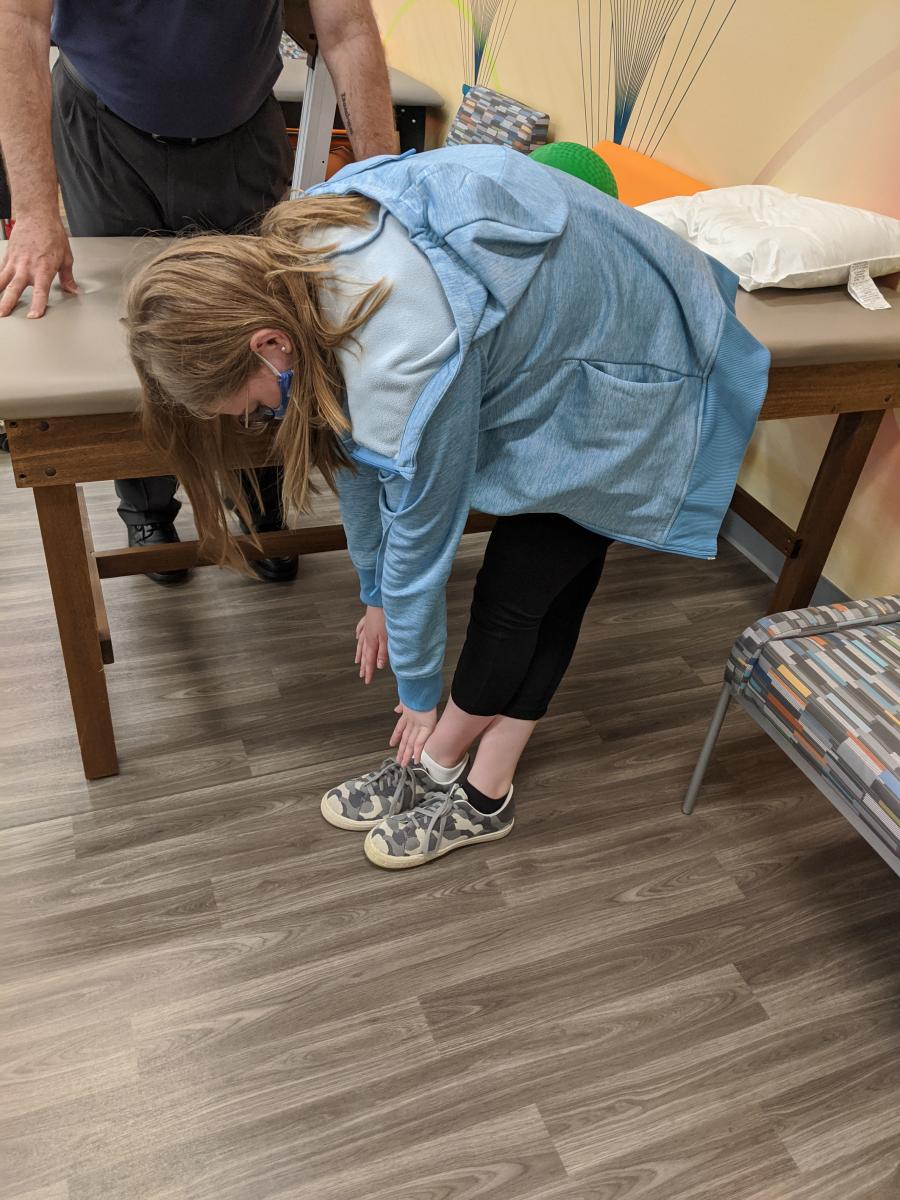 Did you know that children with a chronic illness are often faced with challenges such as chronic pain? Chronic pain is pain that does not improve with time, and can affect many parts of the body. After Molly was diagnosed with polyarticular juvenile idiopathic arthritis in August 2020, she developed amplified musculoskeletal pain syndrome (AMPS). AMPS can make even the slightest of touch very painful. "Molly couldn't walk from one end of the house to the other, or bend over to tie her shoes, without being in excruciating pain," says Jennifer, Molly's mom. Molly's rheumatologist, Dr. Dustin Fleck, division chief of rheumatology at Dayton Children's Hospital, referred Molly to the chronic pain management program at Dayton Children's.
The chronic pain management program is an intense eight-week outpatient program for children dealing with chronic pain. The program provides a multidisciplinary therapy with the goal of improving quality of life and facilitating a return to regular activities. "The focus of the therapy does not include the why a patient is dealing with pain, but rather focuses on the how to get back to a normal life," says Kristen Spisak, MD, director of comprehensive pain services at Dayton Children's Hospital.
During the eight weeks of therapy, Molly had appointments with physical therapy, psychology and medication management. "Every other week I would meet with Cindy to go over my medicines and make changes if needed. And then every week I would spend an hour doing physical therapy with Sam Schwendeman, DPT, and an hour with pain psychology directed by Dr. Webster," says Molly.  
"A multidisciplinary treatment plan is essential for these pediatric chronic pain patients. Treatment plans vary according to diagnosis, level of functioning, psychological co-morbidities, family involvement and environmental influences," says Cindy Brown, DNP, lead advanced practice nurse for the chronic pain management program.
The goal with the different therapies was to build up strength and endurance, and re-train Molly's body's experience to pain and how it should react. "The chronic pain clinic helped Molly learn how to manage her pain on a daily basis, and taught her coping skills for what to do when she has a pain flare up," says Jennifer.
Molly's family also completed three group sessions with other families in the program. These sessions are conducted by psychologist, Dr. Erin Webster, and focus on assisting families to help their child manage their pain in a variety of ways. Education is a big component of all of these sessions.
"We got to chat with other families and commiserate the challenges that our children were going through, and as a result what we're going through as parents," says Jennifer.
"The program was very beneficial to Molly. She is doing really well managing her pain," says Jennifer. "The communication between the different departments was awesome. Everyone that we encountered was phenomenal."
The intensive outpatient pain program is offered every 10 weeks.  Patients should be referred to the chronic pain clinic at Dayton Children's for an evaluation. To learn more about our chronic pain management program click here.