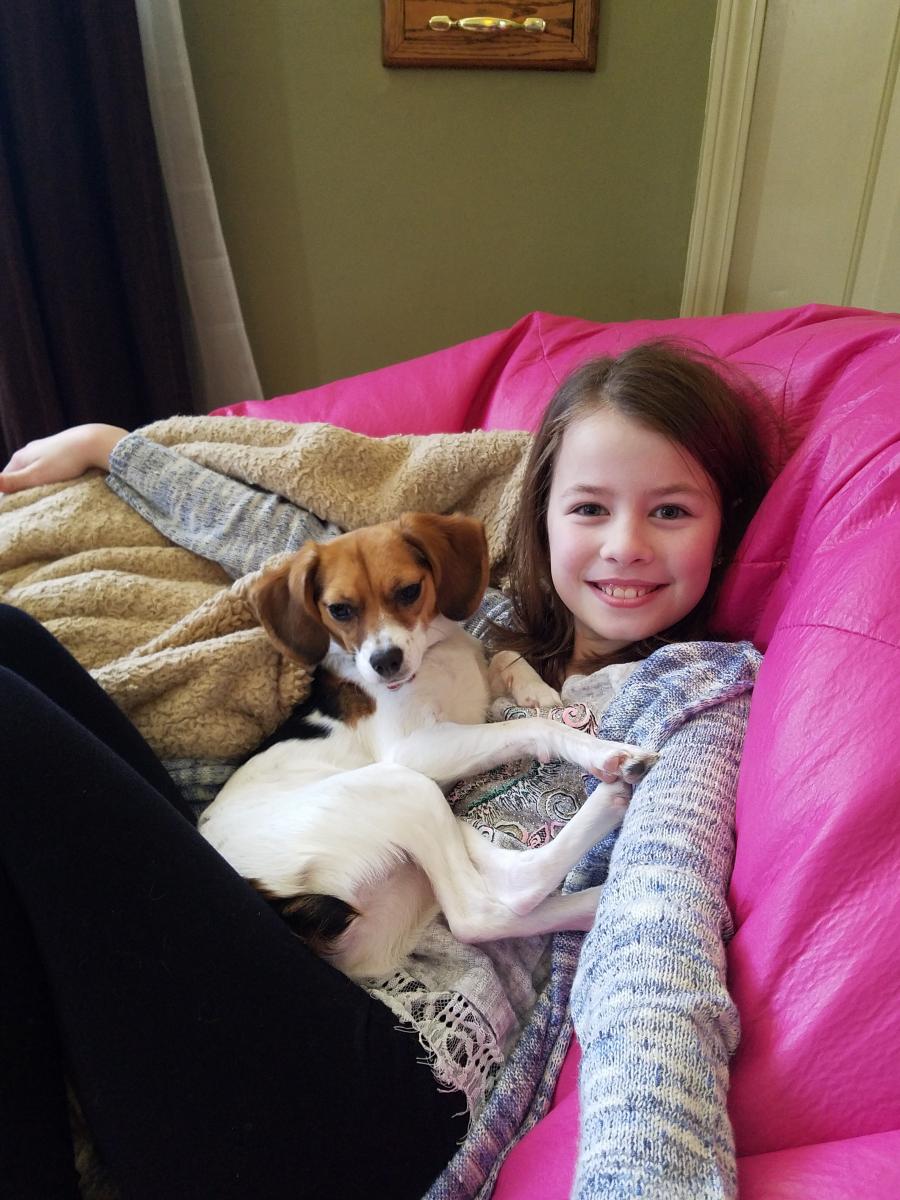 Pippo the Hippo isn't just a stuffed toy. Technically, the worn gray hippo belongs to 10-year-old Macie Clark, but Pippo is truly a full-blown member of the family.
"Macie's had a rabbit and teddy bear since she was born. The first eight years of her life, her whole family was Teddy and Bunny, but they were replaced once she got Pippo," said Tim Clark, Macie's dad.
Pippo is the chosen one, but little does Macie know, her choice in stuffed friends means the world to her mom and dad.
In the early 1990s, when Shawna and Tim Clark were dating, it was Shawna who spotted Pippo's then fluffy, gray fur from the shelf of the flower shop where she worked. She thought it might be the perfect gift for Tim's grandmother, affectionately known as 'Baba Sweeney', as she recovered from open heart surgery.
Baba Sweeney was the family matriarch. It was Baba who hosted the family get-togethers. Her home was the gathering place, and Pippo, who hadn't yet earned her name, became part of Baba's home after that surgery.
"It stayed in her sitting room on the couch through all the years," said Shawna. "A couple of years ago, Baba Sweeney passed, and they were cleaning everything in her house. This hippo was just sitting on a box, so we brought it home. Macie attached to it. She named it 'Pippo' immediately and it's been with her ever since."
Since taking her official place within the Clark family, Pippo's been around for all sorts of adventures, including the day when Macie landed in the operating room at Dayton Children's Hospital.
Macie's path to surgery
Macie was born with an epigastric hernia, which is caused by a weak part of the belly wall that allows fat to push through.
For the first several years of her life, Macie's hernia didn't cause her any trouble. In fact, according to Dr. Sean Barnett, who performed Macie's surgery at Dayton Children's, this type of hernia can often go undetected for years.
"Often the only symptom is a small lump that is noticed along the midline," said Dr. Sean Barnett, who treated Macie at Dayton Children's. "The majority of these hernias are watched, especially the higher they are along the abdominal wall. The main indication for surgery is pain."
Pain is exactly why Macie ended up in the operating room. As she got older, she found a talent for jumping rope and joined the Gem City Jumpers, Dayton's only competitive and performance jump rope team. Macie loved jumping, but her new hobby brought with it reminders of the hernia she'd hoped to forget.
"Macie was noticing it more often as she got more athletic," said Shawna. "It started hurting her."
Macie decided on her own that she wanted to have surgery to place the bulging tissue where it belongs, allowing the abdominal wall to gain strength and repairing the hernia.
"Kids do very well with this procedure and require little pain medication," said Dr. Barnett. "They are discharged and walk out of the facility."
The big day
Hernia surgery of this type is outpatient and considered low-risk, but it didn't make the procedure any less scary for the Clarks. Before they left for the hospital with their only child, they asked Macie which of her fuzzy companions she wanted to bring with her.
"She said Polka Dot, which is her blanket, and Pippo," said Macie's mom, Shawna Clark.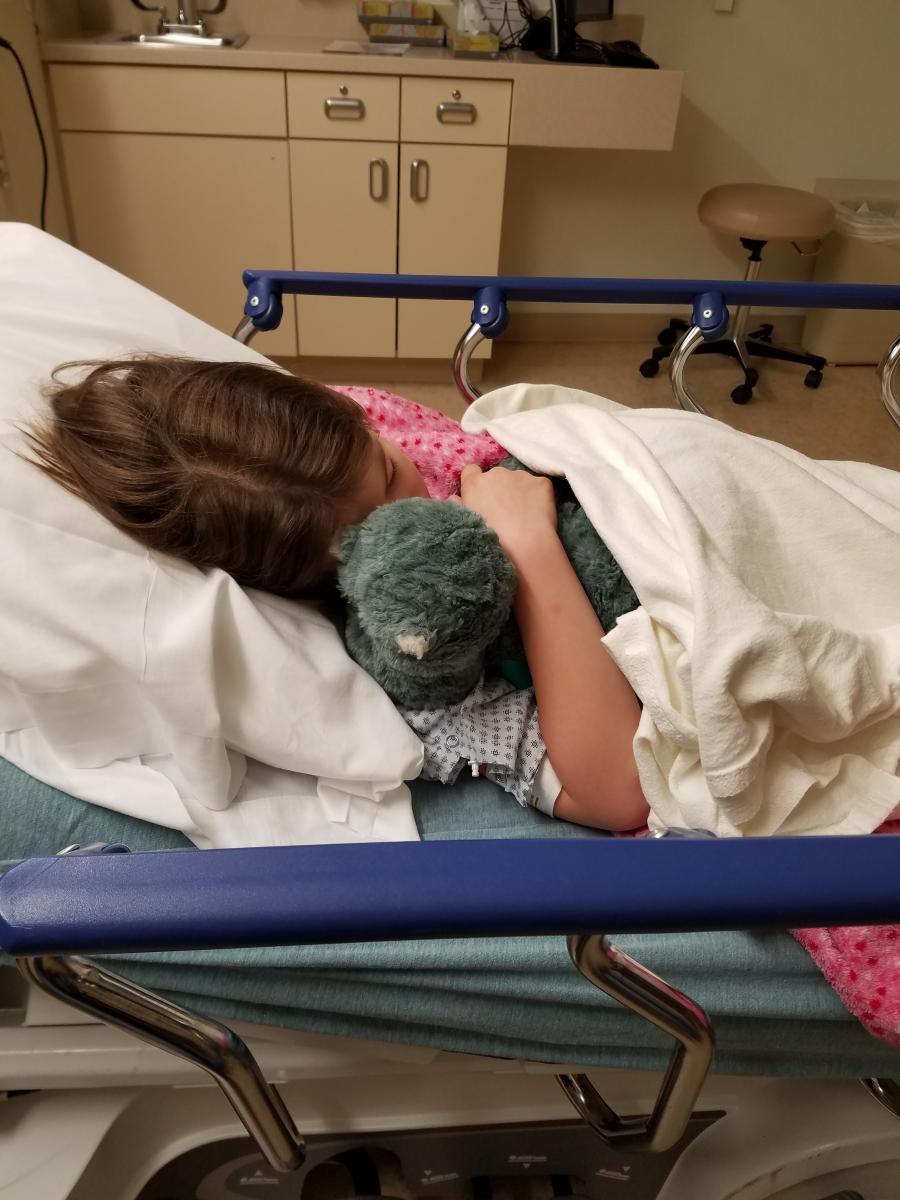 Macie's parents weren't surprised by her choices, and they found it comforted them too when they saw Macie towing around Baba's stuffed hippo. The warm faces at Dayton Children's didn't hurt, either.
 "Of course we were dazed about what was happening and Macie was obviously very scared," said Shawna. "But the person who checked us in was so super nice and addressed everything to Macie. The nurses put a patient wristband on Pippo, which made Macie smile and calmed her down a little."
When the nurses saw how Pippo and Polka Dot comforted Macie, they agreed to let them go along for the ride. Of course for a fifth-grader, surgery is a lot easier with your best hippo friend and blanket by your side. 
"Kids will often bring a toy or favorite blanket to comfort them during the surgery," said Dr. Barnett. "Many times they bring them back to surgery and we'll do special things for the kids to see when they wake up from anesthesia."
Less than an hour after Macie was wheeled into surgery, her parents went to see her in recovery.
"When we went back to see her after surgery, they had Polka Dot draped over her and she had Pippo tucked under her arm," said Shawna. "We were so touched that Baba Sweeney was with her in surgery."
'A great experience'
Macie's surgery was successful, and after a few weeks of recovery, Macie was back with her jump rope team.
"She was a trooper. By the third day we had to tell her to take it easy," said Shawna.
Looking back, the Clarks say they're left with a good feeling about their experience, and they realize that sometimes it's the smallest of touches that leave the biggest impression.
"The overall feeling I get from the whole thing is there's nothing fun about surgery, it's a nerve-wracking experience," Tim said. "The whole situation at Children's could have been much worse if they hadn't made us feel as comfortable as they did. It was a great experience, as easy as one could have during surgery. That's what we got when we took her to surgery that day."
And that's exactly what Dr. Barnett and his team strive to provide the families for which they care.
"I think this represents the care we provide here at Dayton Children's Hospital," said Dr. Barnett. "From the initial clinic visit, making the parents and child feel at ease, to the surgery itself and all the wonderful people involved in the care of the patient; it is what makes this a special place for kids."