Jan 09, 2023
patient story
Levi Suttles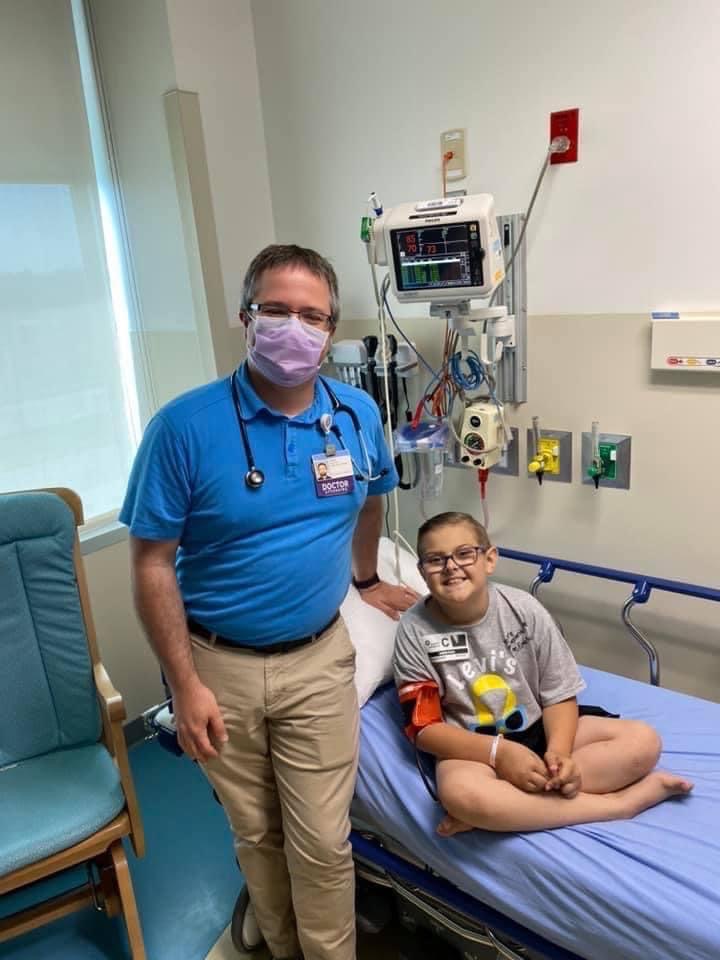 Levi Suttles is a ten-year-old fourth grader who can tell you the name of any dinosaur, loves to play soccer and can't do enough building with Legos. His parents, Kristen and Chad, also call Levi an old soul, and attribute part of that to his journey with leukemia.
a trip to the urgent care
In March 2018, Levi had been sick on and off for a while and still wasn't getting better. When he developed very small red dots on his face, called petechiae, Kristen decided to take Levi to the urgent care.
"The doctor said his ears, throat, etc. all looked good, but wanted to do some blood work just in case. I took Levi home and about an hour later, the urgent care called. They said his blood work didn't look very good. They thought it looked like some form of leukemia and told us we needed to get to a hospital right away," Kristen said.
diagnosed with leukemia
As a baby, Levi had a NICU stay at Dayton Children's. They had a good experience, so Kristen told the urgent care that is where they wanted to go. The urgent care coordinated with Dayton Children's emergency department so they were ready for the Suttles when they arrived. After reviewing Levi's bloodwork and doing some more testing, that doctor also concluded that Levi did have a form of leukemia. Chad and Kristen were taken into a conference room where they met oncologist Jordan Wright, MD and Emily Bruening, BSN, RN, CPN, CPHON.
"Chad's brother fought leukemia for about 15 years and was very educated on what life was like having someone with leukemia in your family. We were both stunned. I don't really remember what went on, but I do remember Emily telling us that she had just taken a job in oncology and would be with us moving forward. At the time, that didn't mean much because it was all such a blur, but now Emily is one of the most special people to us," Kristen shared.
starting treatment
During that first meeting, Dr. Wright laid out Levi's treatment plan for the next three and a half years, including chemotherapy and radiation. The goal was to kill any type of T-cell or leukemia cell that may be in the process of developing and help decrease Levi's odds of relapsing.
Chemotherapy can have difficult side effects. For Levi, one of his treatments affected his ability to walk. As a result, Levi used a walker or wheelchair for a few months.
"He went from playing t-ball in the fall to not being able to walk in December. It was really scary," Kristen remembers. With intensive physical therapy, Levi is walking again and continues physical therapy to keep getting stronger.
During every step of their journey, "Dr. Wright never gave us false hope. He was honest and comforting at the same time. There were times he was quiet to give us time to process. I think that's what Chad and I both needed," Kristen said.

Team Blue Glasses
Levi always wears blue-rimmed glasses, so his friends and family became "Team Blue Glasses." Dr. Wright and Levi's other caregivers were part of that team too, finding fun and creative ways to help motivate and support Levi through his treatments.
After Levi had a feeding tube placed to help him gain weight, Dr. Wright challenged Levi to a swordfight if he could eat a certain amount. Levi was up to the challenge, and they had a swordfight in the hall. When Levi was invited to attend a Dayton Dragons game as a VIP, Dr. Wright and his family came to support Levi and cheer him on, holding up "Team Blue Glasses" signs.
a special proposal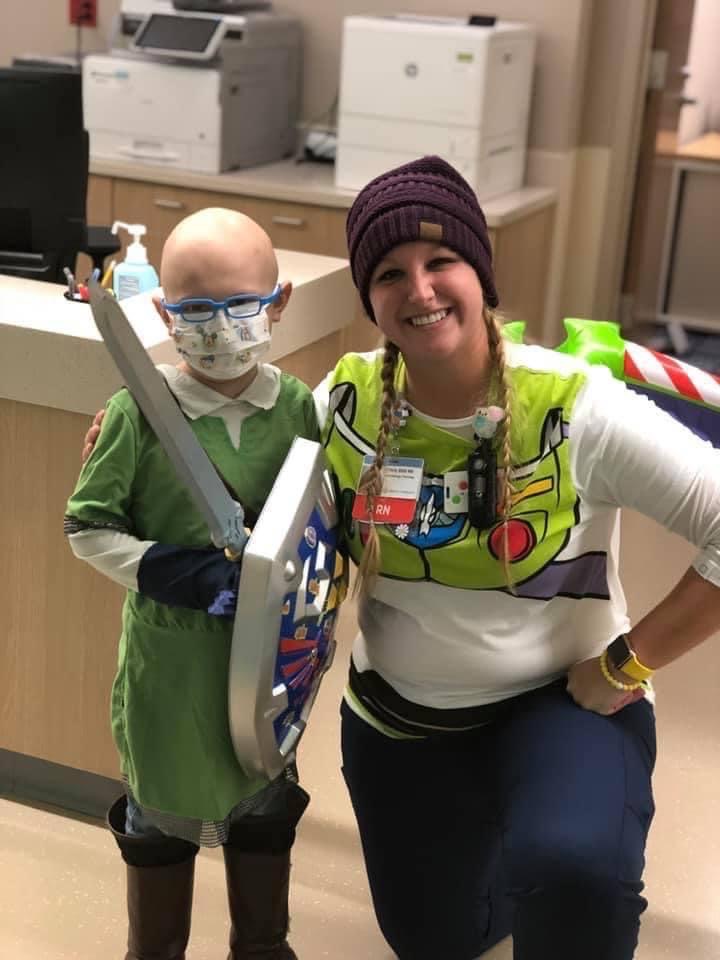 During Levi's treatment, Emily had gotten engaged. Levi had developed a little crush on Emily, and decided he wanted to propose to her too! He even got a ring for her. "It was very sweet. Emily has been such an angel; from the first time we knew anything about Levi's diagnosis. Little did we know how important she would become that first day in the emergency department," Kristen shared.
above and beyond care team
From the night they met through Levi's follow-up treatments, Dr. Wright and Emily have been anchors for the Suttles, but the whole oncology team has been outstanding.
"We trusted all of Levi's doctors. Whenever we called, they would all know exactly where he was in his treatment," Kristen said. "They also knew Levi, and all of their patients, personally. You go through all different stages of life together – you become family. That's why they're so special to us."
moving forward
Levi still sees Dr. Wright for regular follow-up appointments but is back to school, soccer and doing other activities he loves. Going through treatment at such a young age has been difficult, but Levi is doing very well. It even looks like he'll make the honor roll!
"Levi didn't get to be an immature kid; he's just been through so much. Him making honor roll is such a big deal because there could have been some learning hurdles from his radiation. For him to have good grades and to see his confidence increase has been so great," Kristen said.