In October 2019, Lucas Hickernell, 13, started to experience intermittent stomach pains. Lucas is a goalkeeper on a select soccer team so initially his parents, Paul and Elise, thought the pain could be related to a sports injury. As a goalkeeper, Lucas does get hit a lot! However, after soccer season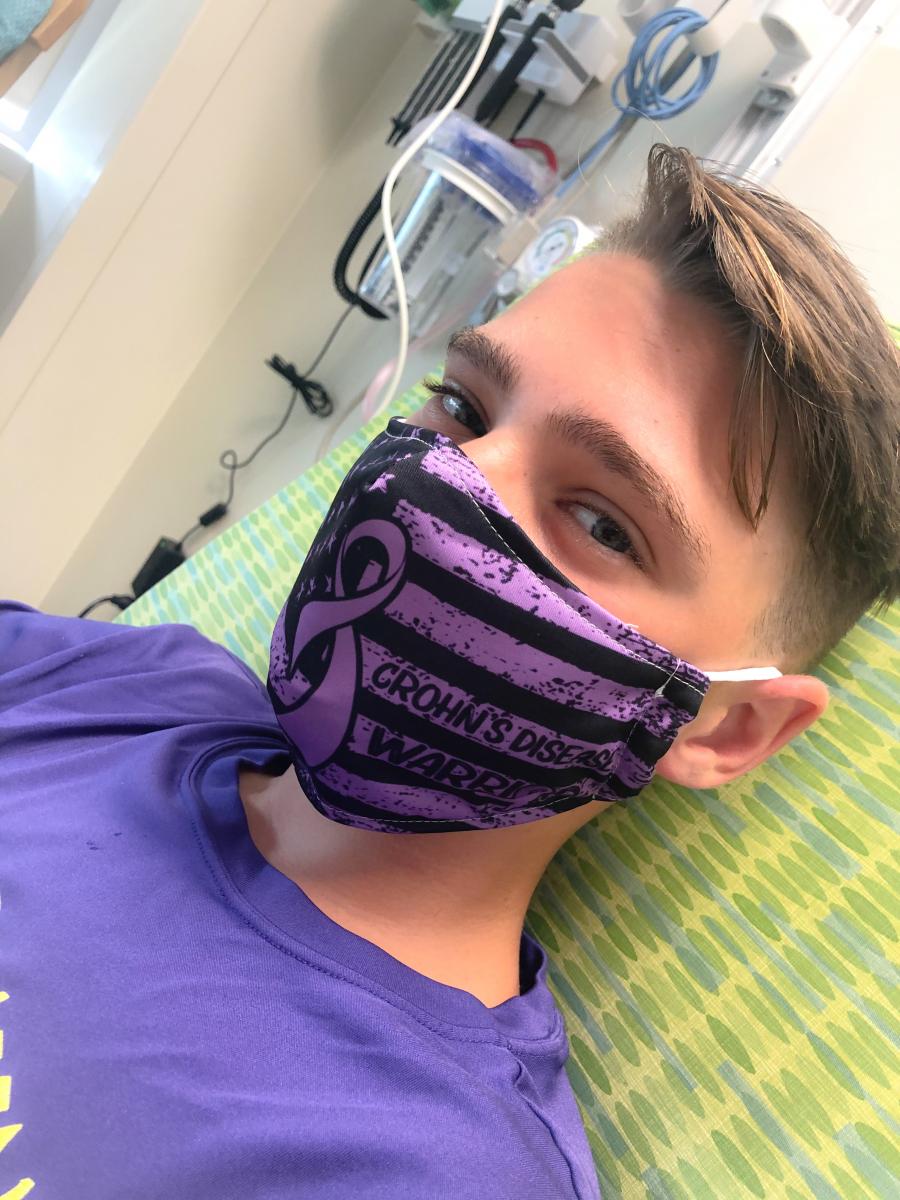 ended, Lucas was still experiencing pain in his stomach. Sometimes the pain was so severe that he would shut down, hold mom's hand, and just try to breathe through the episode.
Just a month later, on Thanksgiving Day, Paul and Elise knew these episodes Lucas was experiencing were more than just severe stomach pain. On their way home from Thanksgiving with family, the Hickernells stopped for fast food. After eating, Lucas felt an unbearable, gut-wrenching pain. Paul and Elise immediately made an appointment for Lucas with his primary care provider.
Lucas' primary care provider ordered labs, stool cultures and an ultrasound. He was also seen soon after in an emergency room where a CT scan of the abdomen was done. The results of these tests led his provider to suspect that Lucas may have a condition called Crohn's disease. Crohn's disease is an autoimmune condition that causes injury to the intestine and other parts of the body. It is a chronic condition, which means it is life-long and needs ongoing medical care. Lucas' diagnosis came as a shock to the Hickernells. They realized that their healthy and active teenager might be facing something more than a sports injury.
Lucas was referred to the division of gastroenterology at Dayton Children's Hospital for further review of his imaging and an initial consult to discuss his health concerns. The Hickernells were met by Lucas' gastroenterologist, Jubin Mathews, DO, who helped the family feel reassured that Lucas was going to receive the care he needed. During his consult, Lucas was scheduled to have an endoscopy and colonoscopy.
In the meantime, when Lucas' stomach pains began to worsen, Elise reached out to Dr. Mathews. Dr. Mathews quickly moved her schedule around and brought Lucas in for a scope to get a better understanding of the pain he was experiencing. There was never any point in their season of care that the Hickernells thought they were bothering Dr. Mathews. She always made them feel that Lucas' care was a priority.
His scopes revealed ulcers in his small intestine and large intestine, with narrowing of the end of his small intestine (terminal ileum).  Lucas had an Magnetic Resonance Enterography (MRE), which is a special type of imaging used to assess the intestines for evidence of injury or infection.
Based on his scopes and MRE, Lucas was diagnosed with stricturing Crohn's disease. He was started on a course of steroids and scheduled to start an intravenous medication. Almost overnight there was a transformation in Lucas' health. He started putting on weight, his energy started coming back and the pain was going away. 
Infusions 
In February, Lucas and Elise traveled to Dayton Children's to start his first of many infusions. His initial treatments were lengthy infusions and later he was advanced to rapid infusions.
Today, Lucas visits Dayton Children's every eight weeks for his infusions and will continue doing so until there is a cure for Crohn's disease.
Infusions have become a special time for Lucas and Elise. They have made a ritual out of stopping for snacks on their way to the hospital, watching movies during the infusions and just being able to spend one-on-one time together. Elise is extremely grateful to have a children's hospital and access to nationally recognized care so close to home.
Shortly after Lucas' infusions had started, COVID-19 made its way into Ohio and the entire state went under a stay at home order. This order impacted the way Lucas received care to a certain extent, but it never impacted the exceptional experience he was used to receiving. All of his labs and infusions continued to be on-site at Dayton Children's and his follow-up appointments with Dr. Mathews were temporarily moved to virtual visits. While a virtual appointment seemed unconventional at the time, Dr. Mathews continued to be thorough and took time to explain and address all the Hickernells' concerns. She never made them feel like they were just another appointment on her schedule.
"There is so much going on right now and it's hard to know what to trust, but when it comes to helping our son through this disease and facing the reality of an autoimmune disease we have been reminded along every step of the way that we made the right choice" - Paul
Embracing his diagnosis
From the very beginning, Paul and Elise wanted Lucas to make sure he understands that this new diagnosis is part of his story. This was nothing to be ashamed or embarrassed about. Lucas has learned to embrace his diagnosis. And on days when Crohn's disease feels like more than he can handle, he is reminded by his care team that he is not alone, and that he can continue to thrive with a chronic disease.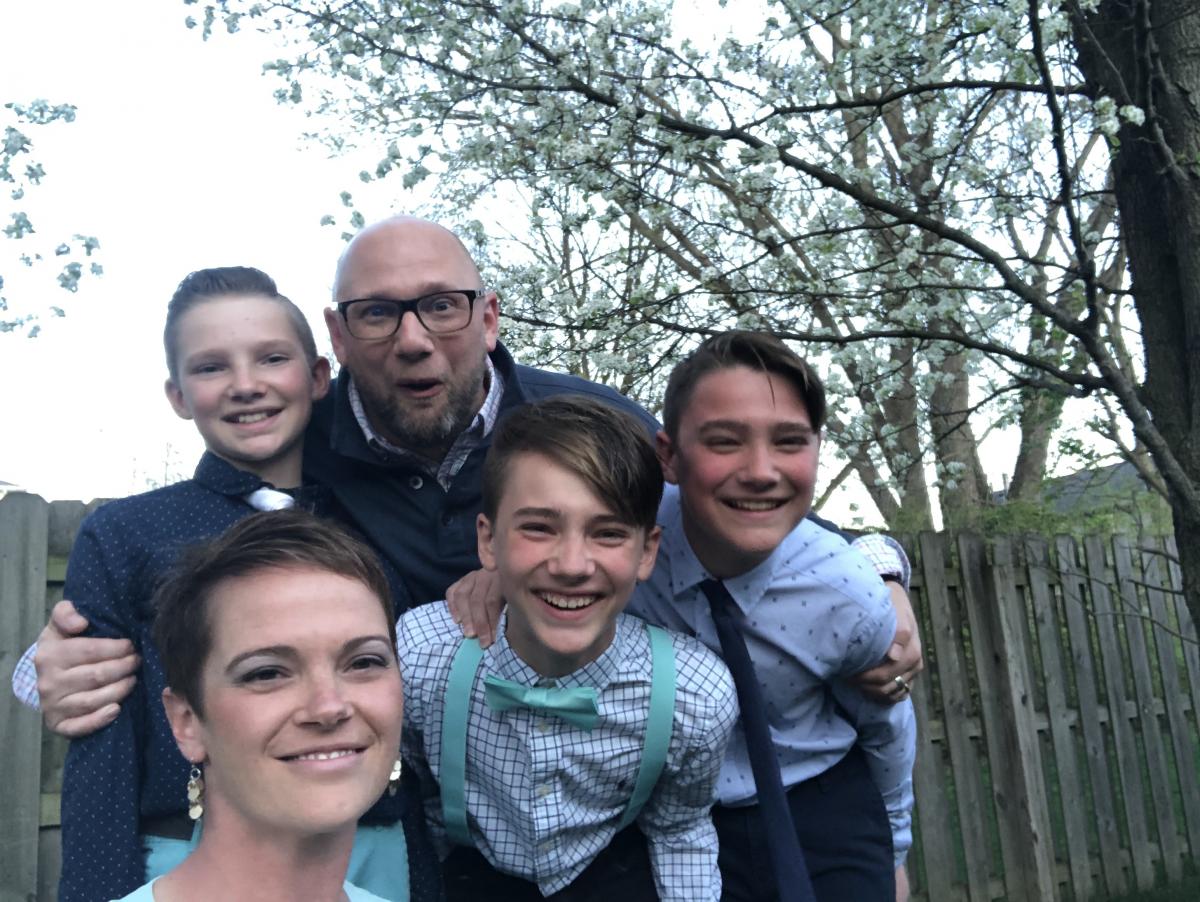 Now that he has adjusted to his diagnosis and his labs are where they need to be, Lucas has been able to stop taking most of his oral medications. He follows a daily regimen of iron supplements and vitamin D. He has been able to continue eating liberally - this is a huge win because Lucas had been concerned that he would no longer be able to eat his favorite food, chicken wings! He is starting to look and feel like a new and improved version of himself.
As a family of five with three healthy boys who have not had any health concerns until lately, the Hickernells feel very blessed. Lucas' diagnosis is not going to slow their family down it's just going to make them stronger and they are ready to start down this new path.