For Bryson Fisher, age 5, rehabilitation therapies have given him the opportunity to play and move around like any other child.
Bryson first started therapy in the NICU and continued in outpatient therapy at Dayton Children's from the age of six months. He regularly sees many specialists who help him battle spastic quadriplegia (a form of cerebral palsy), cortical visual impairment, digestion issues such as using a G-J tube, colostomy and a central line as well as a handful of other challenges.
"When I evaluated Bryson as an outpatient at the age of six months in 2017, he was unable to focus on faces, track or show any interest in toys. He was unable to hold his head up in tummy time and he had difficulty using his left arm," said Janet Squiers, manager of rehabilitative services at Dayton Children's.
Now, after more than four years of various therapies at Dayton Children's, Bryson is on the move. He is able to roll, sit, and his favorite, crawl.
As Angel, Bryson's mother, shared her son's story over the phone, he was moving all over the house.
According to Angel, he quickly found out that crawling is fun. "He's realizing he can do it. They are giving him that confid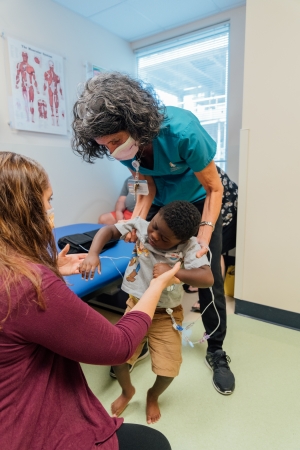 ence," Angel said.
Angel was a foster mother to Bryson and brought him home from Dayton Children's NICU. Bryson was later adopted by Angel and her husband, Ron, when he was two years old.
Overtime, Angel shared how Bryson's physical therapy and occupational therapy sessions have become equivalent to playtime. "It's not work to him. It's all play," Angel said.
Bryson's team has incorporated music, lights, and toys with sounds into almost every session he does.
"His therapy services at Dayton Children's give his parents coaching and support for ways to promote these functional skills in a fun and playful way, just like kids are supposed to do," Janet said.
In an effort to strengthen Bryson's left side of his body, occupational therapists have helped him learn how to hold a crayon and make marks on paper. Bryson is still right hand dominant, but he is now using his left hand for two-handed activities like playing with toys and buckling his seat belt.  
With speech therapists, Bryson has been learning how to use an AAC communication device, or "talker" as he calls it. So far, that's going well for him.
Dr. Deborah Mowery is Bryson's physical medicine and rehabilitation (PM&R) physician who provides management of the medical aspects of his rehab care. He sometimes receives Botox injections to relax his spastic muscles at her appointments. Dr. Mowery also supports and writes orders for equipment and devices recommended by his therapists.
Overall, Janet and Angel cannot believe how far Bryson has come. "It truly takes a whole team to raise Bryson, and we have the whole team," Angel said.
Janet credited Angel and the rest of Bryson's family for their dedication at home.
"Bryson's incredible family is credited with his amazing progress and dedication to his rehab appointments and carryover of home activities," Janet said. "There is nothing they won't do for Bryson and their love and support makes him thrive and progress."
To learn more about rehabilitative therapies offered at Dayton Children's click here.