a sensational surgical experience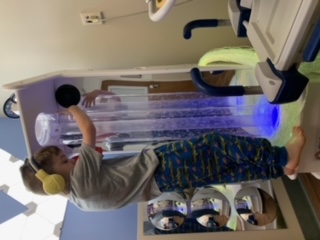 Kaytee Harlan knows firsthand that a great experience makes a world of difference when her son, Bennett, needs to have a sedated procedure.
Bennett has level two autism and significant sensory delays, which made Kaytee even more nervous that he needs a sedated procedure for dental work. Recently, Bennett needed a sedated procedure and the surgical and sensory teams at Dayton Children's Hospital went above and beyond to deliver the best experience possible for Bennett and his family.
compassion and understanding
Before Bennett's procedure, Kaytee was contacted by the surgical department. After reviewing Bennett's chart, the surgery team member asked Kaytee if there was a specific time of day that would work best for his procedure. Typically, procedure times are scheduled from the youngest to the oldest patient, and on the day of his procedure, Bennett was the oldest patient scheduled. This meant he would not have surgery until early afternoon, and he would have to refrain from eating and drinking until after surgery. Kaytee expressed how difficult it would be to not only refrain from eating and drinking, but he also wouldn't understand why. With the utmost compassion and understanding, the surgery team member offered to move Bennett to be the first procedure of the morning.
procedure day
On the day of the procedure, Bennett was checked in right away. Bennett and his family were led to a sensory filled pre-op room. It was large and distanced from the other pre-op rooms. But best of all, it was filled with sensory tools and equipment. From a light up marble board and LED light up shapes to fiber optics that changed color and a projector for the wall, everywhere they looked there was something for Bennett to watch, do or be distracted by. He was even provided a mat in case he needed to release some tension or wrap himself up for privacy.
The experience didn't stop with the individualized pre-op room. Bennett's care-givers also made the experience extraordinary. His check-in nurse practiced a level of patience that many can only aspire to have. She took her time with Bennett and never rushed anything, especially if it meant that he would get upset.
Specialists from the hospital's child life team also came in and spent time with Bennett to prepare him for anesthesia. They helped him decorate his anesthesia mask with stickers on the outside and let him choose a scent for the inside. Generally, Bennett doesn't like to have his face touched, but he kept putting the mask up to his mouth to smell the sweet strawberry scent that he chose.
When it was time to go back for his procedure, Bennett was already so familiar with the staff and their friendly faces that he separated from Kaytee with no issue at all.
recovery
After his procedure, Bennett was taken to the post-anesthesia care unit to recover. He had his own room that was dark, quiet and separated from the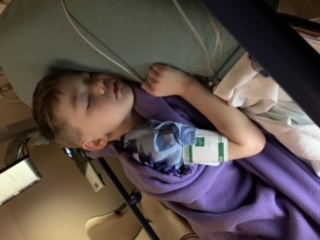 rest of the patients in recovery.
According to Kaytee, Bennett's nurse, Deanna was the kind of nurse all parents hope to take care of their child when they can't. Deanna was kind, compassionate and listened not only to the limited words Bennett spoke, but she also paid close attention to and listened to his body language for indications of pain. She could tell when he was struggling and did her best to comfort him in ways he accepted.
As a mom to a child with specific needs and extremely limited communication, Kaytee was worried for that time when Bennett would be in the operating room and recovering without her there as his voice and advocate. But Kaytee's worries were immediately put to rest because Bennett was treated with love, compassion and kindness.
"We had the B-E-S-T experience at Dayton Children's," said Kaytee. "From pre-op communications to the moment we walked in the doors on procedure day, all the way until we left for home. Every staff member we encountered was absolutely phenomenal, kind, enthusiastic and understanding. They had clearly read my son's chart and learned about his needs because they were taken into consideration at every single point in his journey."