no challenge too great for the hemophilia team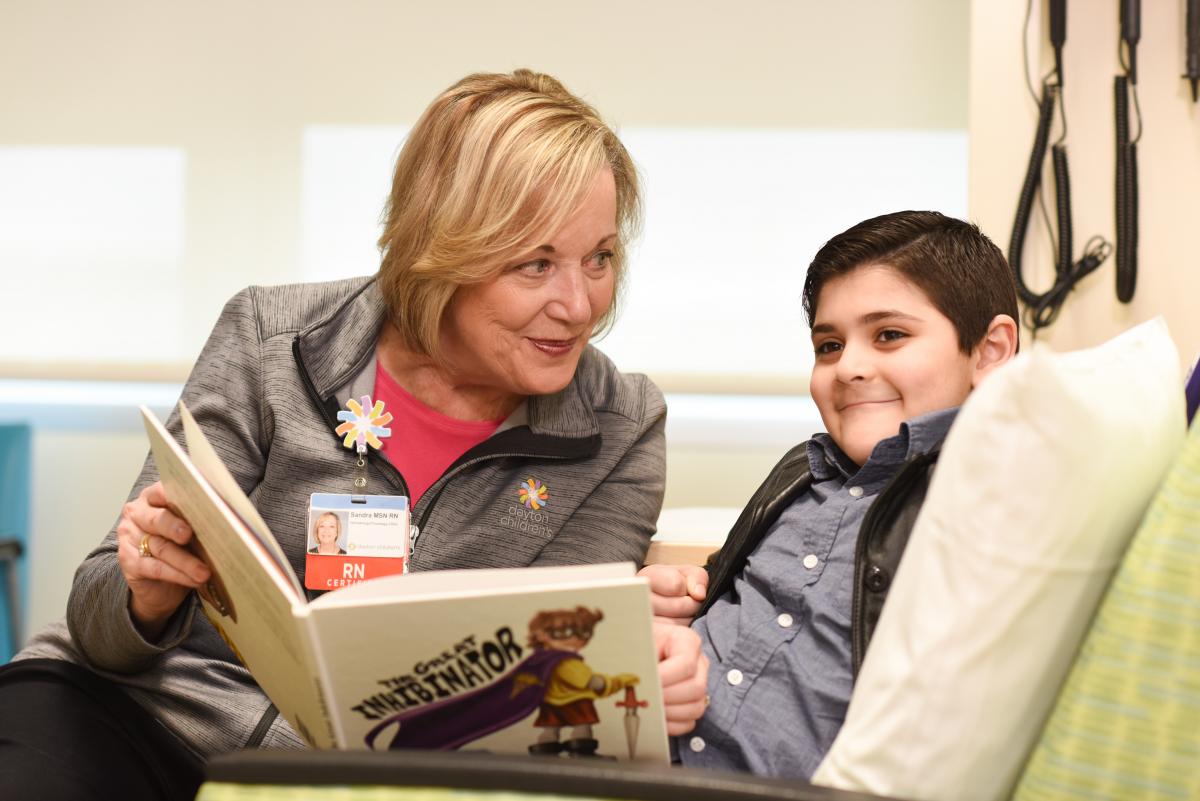 Ayham Dawoud is living proof that the hemophilia team at Dayton Children's won't let anything stand in the way of providing patients with the best possible care. Even patients who are here on a travel visa, can't speak English and don't have health insurance.
Ayham came to Dayton from the Middle East last year with his mother, Jaklin. The 5-year-old was born with hemophilia, a rare and incurable condition that prevents blood from clotting properly. For people with this disease, a simple injury can cause excessive bleeding outside the body and inside the joints. Ayham had not received proper care in his home country, putting him at high risk for bleeding episodes. One of his ankles had become a frequent site for internal bleeding, which caused him to walk with a limp.
"Our hemophilia patients usually see Dr. Jordan Wright, but since Dr. Ayman El-Sheikh, our medical director for hematology/oncology, speaks Arabic we decided to make an exception for the first visit," says Sandy Hibner, BSN, RN, hemophilia resource nurse. "It made such a difference to the family that they could communicate with Dr. El-Sheikh in their native language."
The high cost of drug therapy
Blood tests showed that Ayham has a severe form of hemophilia that resists standard treatment. Caring for him would require a different type of drug therapy, which typically costs as much as $700,000 a year. Compounding the problem was the fact the family had come to the United States on tourist visas, making Ayham ineligible for government assistance.
Despite these obstacles, the hemophilia team moved forward with Ayham's care. "We are never going to turn a patient away, no matter where they are from or what kind of insurance they have," says Dr. Wright, who is medical director of the hemophilia program. "There was no doubt we would get Ayham treatment, but we had to think outside the box."
Dr. Wright found a research study that would allow Ayham to receive one of the medications free (the drug typically costs about $3,000 a day). Although it is experimental, this medication has been shown to help patients with the same severe form of the disease that Ayham has. He was the first patient in the U.S. to participate in the study—Dr. Wright initiated it at Dayton Children's specifically for Ayham's care.
true heroes
Another major challenge was to find insurance coverage for Ayham's other needs—everything from physical therapy and child life to medical imaging and additional drug therapy. Sandy and social worker Christie Blankenship worked tirelessly to find assistance, which came from Ohio's Children with Medical Handicaps program, the hospital's patient assistance fund, Southwestern Ohio Hemophilia Foundation and other sources. Meanwhile, Sandy spent hours each week making sure that Ayham was following the research study protocol and documenting his progress.
a new life for Ayham
Today, Ayham's condition has improved significantly. He is able to communicate in English and is excited about starting kindergarten in the fall. Jaklin has found a job as a seamstress, and a lawyer is trying to obtain immigrant visas for the family.
"Our team is working on a long-term treatment strategy for Ayham, just in case the experimental drug is not effective," Dr. Wright says. "30 or 40 years ago, hemophilia treatment was extremely limited. Patients were disfigured by bleeds, and wheelchair bound as young adults. Today, with the right treatment, patients can live normal lives."