5/25/18news article
U.S. Senator Rob Portman tours Center for Community Health and Advocacy
Discussions focus on tax credits that help the community and transforming care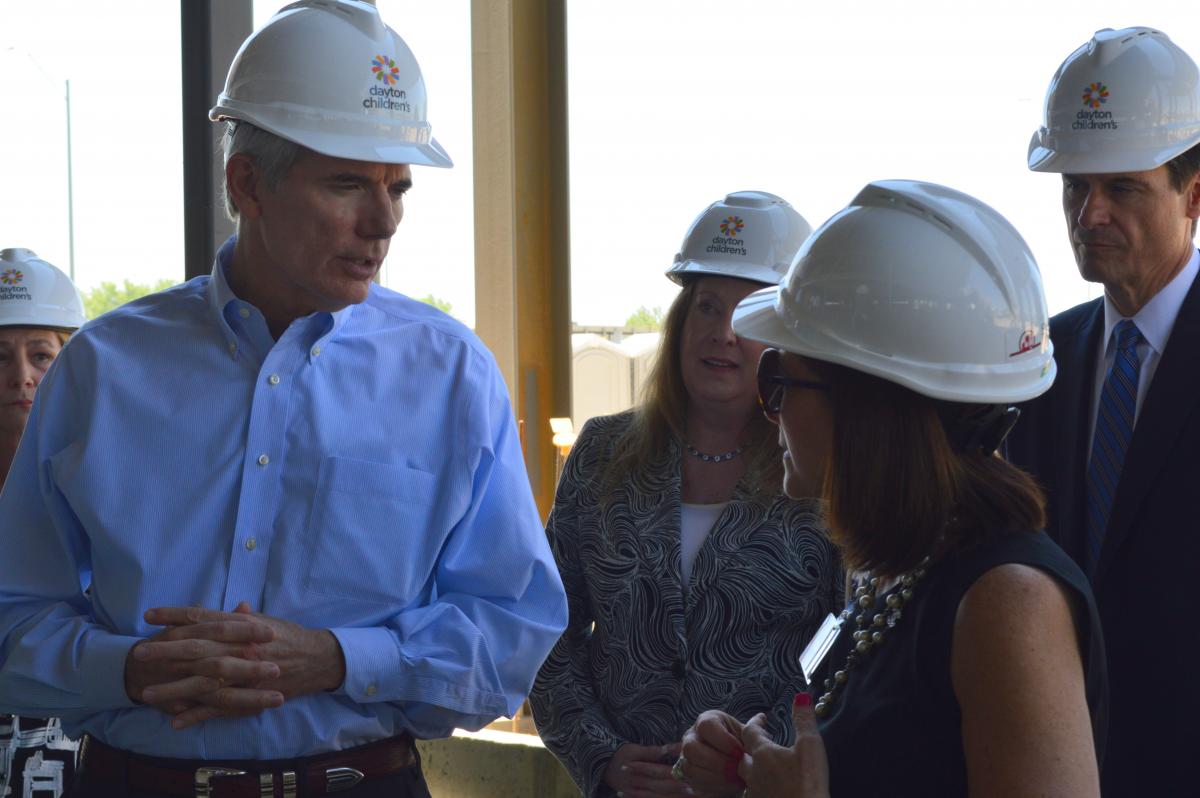 U.S. Senator Rob Portman toured Dayton Children's Center for Community Health and Advocacy Friday, May 25, 2018, as part of his 'Results for the Middle-Class Tax Reform Tour.'  Senator Portman spoke with Deborah Feldman, president and CEO of Dayton Children's, to hear about the many community-facing programs and services like the foster and kinship care clinic, the complex care clinic, the Dayton Asthma Alliance and the food pharmacy that will be located in the building once completed in 2019. 
Senator Portman also talked with Chris Bergman, chief financial officer, about how a portion of the center's 50,000-square-foot, $28 million-dollar construction was funded through New Markets Tax Credits.  This is a tax incentive Senator Portman fought to preserve in the Senate version of the Tax Cuts & Jobs Act and the final bill which ultimately became law.
Dayton Children's created the Center for Community Health and Advocacy as a way to broaden and accelerate community health efforts already underway, align services and support new endeavors to improve the health status of children.  Hospital leaders championed the clean-up of a former factory site that once blighted the gateway to the Old North Dayton neighborhood, making it safe for development. 
The center is now establishing and leading a five-year child health agenda for Dayton, focusing on the zip codes with the most challenges.  By focusing on small areas with the greatest challenges, the center hopes to make the biggest impact.
Led by Maria Nanagas, MD, Dayton Children's Pediatrics, a nationally recognized patient centered medical home, will relocate to the center. In addition to serving as the primary care office for hundreds of children in the surrounding Old North Dayton neighborhood, Dayton Children's Pediatrics will pilot a program coordinating care for children with medical complexities and serve as the medical home for those in foster or kinship care. 
With the opioid epidemic, the number of children in foster care or kinship care is growing exponentially.  These children need a stable place to receive their primary care. Largely because of the trauma they have experienced, children in foster care often have more significant medical and behavioral health needs than children not in foster care.
The new facility will also house a food pharmacy offering immediate help for any family struggling with food insecurities.  There will also be a teaching kitchen, so families can learn how to create healthy but still tasty meals, and combat concerns over childhood obesity.
While the center's services will continue to evolve, the mission will remain to uplift the health status of every child in the region.