5/11/15news article
open windows create a danger for children
a few safety steps can prevent injury
With warmer weather here to stay for the season, many families are leaving the windows open more often. While it lets the fresh air in, it also opens up a danger for your child.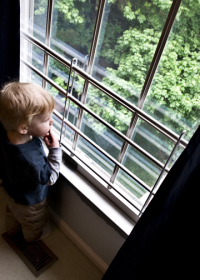 How often have you watched a young child run up to the window to press against the glass? However, if there is no glass there, that child can easily push through a screen and tumble out the opening.
Last year, from January to September, ten children were treated at Dayton Children's Soin Pediatric Trauma and Emergency Center after a fall out a window. On average across the country, eight children die every year after falling out a window and more than 3,000 children younger than 10 years old are hurt.
"Unfortunately, a screen is not a safety device," says Jessica Saunders, director of Dayton Children's Center for Health and Wellness. "It's designed to keep insects out, not to keep children in. Proper safety guards on windows save lives."
There are a number of steps parents can take to keep their children safe.
Install window guards and stops
A 2015 study by Safe Kids Worldwide found 70 percent of parents have never considered a window guard or stop. A window guard is normally screwed into the frame in front of the screen with bars no more than four inches apart. Many also have safety releases, in case of fire. They cost $20 or more.
A window stop attaches to frame and prevents the window from opening far enough to let a child fall. These cost as little as a few dollars. Dayton Children's experts recommend either window guards or stops be installed on every window above the first floor.
Teach children to stay away from open windows
Knowledge is power. Arm your child with the knowledge of what can happen. Instruct them never to lean on a screen or to climb on furniture to access an open window.
Top down
If you have double hung windows, consider opening the top pane instead of the bottom. That makes it harder for a child to access the open part of the window.
It's not just your house
Parents need to check windows at the homes of grandparents and babysitters, as well. Remind those caregivers about window safety and provide window guards and stops, if necessary. If you go on vacation, also remember to check hotel windows to see if they open, and if so, how far.
If a child does fall out a window, do not try to move them yourself. Call 911 and let trained medical personnel move the child using the proper precautions to prevent further injury.
For more information, contact:
Stacy Porter
Communications specialist
Phone: 937-641-3666
newsroom@childrensdayton.org