9/16/14news article
new study reveals 9 out of 10 parents move their child from booster seat to seat belt before their child is big enough
booster seats can reduce the risk of serious injury by 45 percent compared to seat belts alone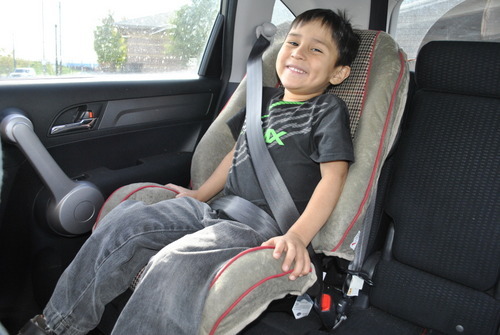 As part of National Child Passenger Safety Week, Safe Kids Worldwide released today "Buckle Up: Booster Seats," a new study that finds an alarming number of parents are allowing kids to use a seat belt alone before they are big enough. 
The report, funded in part by a $2 million grant from the General Motors Foundation, is based on a national online survey of 1,000 parents of children ages 4 to 10. The study found seven in ten parents do not know that a child should be at least 57 inches (4'9") to ride in a car without a booster seat. In fact, in practice, nine out of ten parents move a child from a booster seat to a seat belt too soon.
"Car seats, booster seats and seat belts are engineered to offer more protection than ever," said Jessica Saunders, Safe Kids Greater Dayton coordinator and community relations manager at Dayton Children's Hospital. "But we found that not all parents know when it's appropriate to move a child from a booster seat to a seat belt alone. Keep this in mind: A child needs to be at least 57" tall to ride with just a seat belt."
Motor vehicle crashes are the second-leading cause of death for children 4 to 10 years old. In 2012, 340 children this age died in motor vehicle crashes. A third of these children were riding without a restraint that could have saved their lives. Many children of this age should be riding in booster seats which have been shown to reduce the risk of serious injury by 45 percent compared to seat belts alone.
Booster seats protect children who are too big for a car seat but too small for a seat belt. Seat belts don't fit children properly until they are at least 57" (4'9") tall and weigh between 80 and 100 pounds.
The report also revealed that carpooling can be a particularly risky time for small passengers. One in five parents whose children carpool say they "bend the rules" when driving, letting children ride without seat belts and without the car seat or booster seat they would normally use. And 61 percent of parents say they notice other carpool drivers bending the rules. Safe Kids research also shows that one in four parents report they don't buckle up their children on every ride.
"As kids grow up, it can be easy to forget the importance of making sure kids are buckled up in the right seat on every ride," said Saunders. "The research findings underscore the importance of remaining vigilant throughout a child's lifetime."
Buckle up every ride, every time, in the right seat.
Remember: A child needs to be at least 57" tall (4'9") and weigh 80-100 pounds to ride with just a seat belt.
Check that a car seat is installed properly here.
Learn more about car seat safety at safekids.org.
Child Passenger Safety Week (September 14-20, 2014) culminates with National Seat Check Saturday on September 20. Safe Kids will host more than 500 child seat inspections across the country, offering guidance from certified Child Passenger Safety Technicians on proper installation of child safety and booster seats. Parents and caregivers can visit safekids.org to locate an event in their community.
For more information, contact: 
Stacy Porter 
Communications specialist 
Phone: 937-641-3666 
porters@childrensdayton.org