12/3/15news article
Harlem Globetrotter visits kids at Dayton Children's Hospital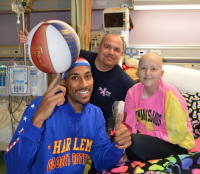 Zeus McClurkin, star of the world famous Harlem Globetrotters, visited with patients today, showing off his signature Harlem Globetrotter ball handling, signing autographs and sharing some laughs. He even taught a few very special tricks to the kids, like spinning a ball on their finger.
Known worldwide as the Ambassadors of Goodwill™, the Harlem Globetrotters are giving back even more during their 90th year with The Great Assist initiative, pledging to spread 100 million smiles around the world over the next 10 years with act of kindness and benevolence.
Smile Patrol™ is the Harlem Globetrotters' proprietary hospital outreach program designed to brighten the day and lift the spirits of some very special fans unable to attend a Globetrotters game. Smile Patrol visits over 200 children's hospitals worldwide annually, spreading joy and creating lifetime memories.
Celebrating 90 years of providing smiles, sportsmanship and service to millions of people worldwide, the
Harlem Globetrotters will bring their unrivaled family show to the Nutter Center on Thursday, Dec. 31, at
2 p.m., during their 2016 World Tour. This is the 16th consecutive year the Globetrotters have performed
in Dayton on New Year's Eve.
For more information, contact:
Stacy Porter
Communications specialist
Phone: 937-641-3666
newsroom@childrensdayton.org