9/16/14news article
Dayton Children's Hospital joins with Evenflo to offer car seat inspections for Child Passenger Safety Week
certified technicians help parents correctly use and install car and booster seats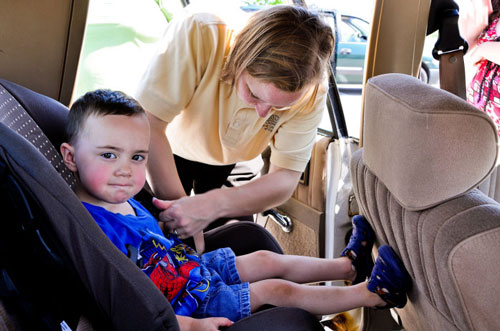 Dayton Children's Hospital in partnership with Evenflo urges parents and caregivers to make sure their car seats and booster seats are properly installed during the National Child Passenger Safety Week. On Thursday, September 18, these groups will team up and have certified child passenger safety technicians available to provide hands-on instruction on installing car and booster seats at the Evenflo Headquarters, 225 Byers Road, in Miamisburg from 10:00 am to 2:00 pm.
"Correctly used, child safety seats can reduce the risk of death by as much as 71 percent," said Jessica Saunders, injury prevention coordinator at Dayton Children's Hospital and coordinator of Safe Kids Greater Dayton. "We want all parents to make sure their car seats are used and installed correctly and that the whole family is buckled up every time on every ride. And we're here to help."
Car seat inspections offer drivers the chance to receive assistance and guidance from certified car seat technicians regarding proper installation of their child safety and booster seats.
State Senator Shannon Jones, a longtime child passenger safety advocate, will be joining Dayton Children's child safety experts at the event to also encourage the proper use and installation of car seats and booster seats. "As a mother of two, I know first-hand the priority parents place on their children's safety," said Senator Jones. "We must continue to raise awareness about the importance of properly fitting, age-appropriate car seats to keep kids safe."
Certified child passenger safety technicians are available to help or double check your work. Parents and caregivers can locate an event in their community by visiting the Safe Kids website at safekids.org.
About Dayton Children's
One of only 45 independent freestanding children's hospitals in the country, Dayton Children's is the region's only medical facility dedicated to children. Accredited by The Joint Commission and serving 20 Ohio counties and eastern Indiana, the experts at Dayton Children's care for more than 290,000 children each year. Consistently recognized as one of the country's best and most cost-effective pediatric hospitals, Dayton Children's is home to the Wright State University Boonshoft School of Medicine, Department of Pediatrics and together with the United States Air Force shares the nation's only civilian-military integrated pe­diatric training program. For more children's health and safety information, visit our web site at www.childrensdayton.org.
About Evenflo Company, Inc.
Evenflo Company, Inc. is a leading manufacturer and marketer of infant and juvenile products.  Majority owned by Goodbaby International, the world's largest juvenile stroller manufacturer, Evenflo was founded in 1920 and is a top supplier of infant and juvenile products to key retailers such as Toys "R" Us, Babies "R" Us, Wal-Mart, Target, Buy Buy Baby and Kmart.  The company's product offering spans a broad range of essential infant and juvenile product categories.  Evenflo's premier brand name has 96 percent awareness with new mothers, and the company enjoys #1 or #2 market share positions in several product categories.  For more information on Evenflo, visit www.evenflo.com.
About Safe Kids Greater Dayton
Safe Kids Greater Dayton works to prevent unintentional childhood injury, the number one cause of death for children in the United States. Safe Kids Greater Dayton is a member of Safe Kids Worldwide, a global network of organizations dedicated to preventing unintentional injury. Safe Kids Greater Dayton was founded in 1994 and is led by Dayton Children's Hospital.
For more information, contact: 
Stacy Porter 
Communications specialist 
Phone: 937-641-3666 
porters@childrensdayton.org