bike handlebar accident sends boy to hospital during COVID-19
The COVID-19 pandemic and the resulting stay-at-home order for Ohio residents has kept the Whiteside family of Centerville mostly indoors over the last few weeks.  But on April 9, when the weather turned warm, Connor Whiteside, age 7, took full advantage and rode his bike around the neighborhood with his dad, Ryan.
Unexpectedly, Connor fell off of his bike. The handlebar of his bike struck him in his stomach on the way down. He began crying immediately and soon started vomiting. His dad carried him home where they checked his injury.  His parents, Ryan and Tara, didn't think it looked too bad and Connor said he felt okay and went off to bed.
Just a few hours later, Connor woke up screaming in pain. Tara knew that he needed to see a doctor immediately. 
Knowing that the pandemic would make for a unique emergency department visit, Tara called Dayton Children's south campus in advance to see if there were any precautions they needed to take. They told them to come right in.
Connor and his mom were seen immediately at the Springboro-based emergency department. The care team checked his vitals. But, as soon as they touched his stomach, Connor began screaming.
Tara said the mood in the room changed instantly. They ordered IV fluids, bloodwork and a high definition cat scan. Soon after, the results revealed that there had been major injury to Connor's pancreas. The emergency department physician, Dr. Kent DePue, had already contacted the Level 1 trauma team at Dayton Children's main campus and they were expecting him by ambulance.
The trauma team began caring for Connor as soon as the ambulance pulled up to the hospital later that night.
Dr. Jeffrey Christian was the pediatric trauma surgeon on-call for Connor's case. Early the next morning, he came to Connor's room to check on him.
"I took another look at his scans and consulted with the radiology team," shares Dr. Christian. "I wanted to make sure we were making the best decision and plan of care for Connor. We determined that the serious pancreatic injury required an operation, according to the most current surgical guidelines of care, and that it should be done immediately."
Dr. Arturo Aranda, chief of pediatric surgery, and Dr. Christian performed the complicated, minimally invasive to make the repairs to Connor's pancreas. The laparoscopic approach allowed him to have less pain and a faster recovery than a traditional surgery. And, they were able to safely save his spleen and 50% of his pancreas.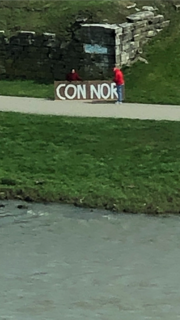 Connor recovered in the hospital for several days. Because of the visitor restrictions in place for COVID-19, Connor's family couldn't visit him in the hospital. So, they decided to visit him OUTSIDE of the hospital with a big "Get well, Connor" sign that he could view from his window.
And, once Connor was discharged, his entire neighborhood wanted to celebrate. They stood along the street cheering with signs for Connor to welcome him home!
"I cannot say a negative thing about this hospital and experience," says Tara. "From the doctors to nurses to child life specialists to housekeepers, everyone was concerned about how we were doing during our time at Dayton Children's."