4/6/18news article
Panera Bread's 'Pieces of Hope for Autism' cookies to benefit Dayton Children's Hospital
100 percent of sales from April 9-15 will got to the autism diagnostic center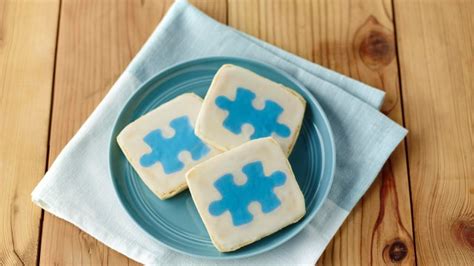 Covelli Enterprises, the Ohio-based franchisee of Panera Bread, is partnering again with Dayton Children's Hospital during Autism Awareness month through the launch of its 'Pieces of Hope for Autism' cookie campaign. Monday, April 9 through Sunday, April 15, 100 percent of the proceeds from all 'Pieces of Hope' cookie sales will be donated to the cause. The puzzle piece cookie has been specially designed to represent the symbol for autism and will be sold in all cafes in the Dayton area.
"I love our 'Pieces of Hope for Autism' campaign because I know how much good it is doing in our communities," said Sam Covelli, Owner/Operator of Covelli Enterprises. "This special cookie has allowed us to make such a positive difference for those with autism, and that's something we are extremely proud of."
The cookie, made from Panera Bread's famous shortbread and topped with sweet white icing and an edible sugar decal, was reformulated in 2016 to align with Panera Bread's clean food policy. It is made completely free of any artificial colors, flavors, additives or preservatives. Panera Bread is encouraging 'Pieces of Hope' campaign supporters to share photos of their cookies on social media using #everycookiecounts. Cookies may be pre-ordered online at www.covelli.com/autism.
Throughout the month of April, Panera Bread will also be collecting donations at the registers through its round up program, allowing customers to round up their order total to the nearest dollar at all of its local cafés to raise additional funds for the cause as part of its Covelli Cares community support.
"The funds raised by the community through the 'Pieces of Hope for Autism' campaign make a tremendous impact on improving the experience at the hospital for children with autism and other developmental and behavioral disabilities," says Craig Boreman, MD, developmental/behavioral pediatrician at Dayton Children's Hospital. "We have been able to purchase sets of tools, toys and distraction aids as well as train more staff in techniques to reduce the stress of coming to the hospital or the emergency department."
Last year's 'Pieces of Hope' cookie campaign resulted in a $24,255.11 donation to Dayton Children's Hospital. Since 2010, Covelli Enterprises has donated more than $1.4 million to autism organizations in the areas it serves, and through this year's campaign the company expects that total to surpass $1.7 million.
About Covelli Enterprises
Covelli Enterprises operates more than 300 Panera Bread bakery-cafés in eight states. Headquartered in Warren, Ohio, Covelli Enterprises is the single largest franchisee of Panera Bread, LLC. In 2017, Covelli Enterprises donated more than $32 million to hunger relief agencies and non-profit organizations through Covelli Cares. www.covelli.com
About Covelli Cares
Covelli Cares is Covelli Enterprises' promise to strengthen and improve lives in the communities it serves through community donations, corporate giving, fundraising promotions, partnerships with local non-profit organizations, and local volunteer activities. 100% of all donations to Covelli Cares will benefit non-profit partners in the communities Covelli Enterprises serves.
About Dayton Children's
One of only 45 independent freestanding children's hospitals in the country, Dayton Children's is the region's only medical facility dedicated to children. Accredited by The Joint Commission and serving 20 Ohio counties and eastern Indiana, the experts at Dayton Children's care for more than 300,000 children each year. Consistently recognized as one of the country's best and most cost-effective pediatric hospitals, Dayton Children's is home to the Wright State University Boonshoft School of Medicine, Department of Pediatrics and together with the United States Air Force shares the nation's only civilian-military integrated pediatric training program. For more children's health and safety information, visit our web site at www.childrensdayton.org.
###