1/13/15news article
Dayton Children's nurse honored for compassionate care
DAISY award given for going above and beyond
Having to come to the emergency department can be one of the scariest moments of a person's life. For a child who can't communicate very well, it can be beyond terrifying. Finding a person you can connect with, who you can trust to take care of you, is as comforting as a warm blanket and a glass of milk.
Stephanie Maniaci, RN, was that touchstone for a child recently at Dayton Children's emergency department. This child had several complications that made it difficult for him to communicate and connect. However, Stephanie was able to bond with him. He relaxed around her and found a few hours of comfort. She was even able to rock him to sleep. Caring for him didn't stop when her shift was over. "Stephanie was supposed to go home at 11:00 pm, but she volunteered to stay into the night to continue to care for this child," says Diane Faulkner, RN, BSN, Stephanie's supervisor.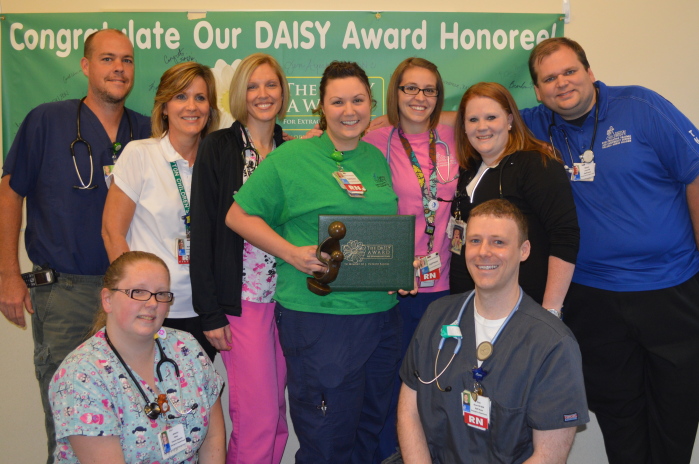 "I felt very strongly I needed to stay with him because we had bonded, he trusted me, and I felt he deserved to have a familiar face tell him it was going to be okay," says Maniaci. The Covington, Miami County mom has two sons and a baby on the way so she drew upon her experiences there."I let him play with games on my phone that my children like to play. We walked around the unit and read books, sounding out words, until it was time for him to go. As he left, I told him he was going to be safe and he hugged me to say goodbye."
The Huber Heights native's efforts didn't end there. Stephanie put together a care package of clothing, diapers, wipes, sippy cups and a properly fitted car seat for the boy to take with him. "Stephanie went above and beyond and provided amazing care for this child in need. It was a good reminder of why we all became pediatric nurses!" says Sarah Miller, RN, BSN, Stephanie's co-worker.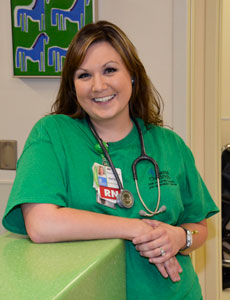 For this dedication, Stephanie Maniaci was honored with a DAISY Award. The DAISY Award is given at hospitals around the country to recognize nurses for their extraordinary acts of compassion and excellence in their work with patients, families, the community and their co-workers.
Stephanie says every nurse on the unit would have done the same. "I am one piece of a bigger group that possesses the same compassion and understanding for the needs of children. Everyday, staff at Dayton Children's go above and beyond for our patients, whether it is changing a popsicle color because purple tastes better than orange, providing a toy after a painful or uncomfortable procedure or just giving out a hug when needed. I am proud and wholeheartedly appreciative to be a DAISY Award recipient, but honestly, my colleagues, family, friends and environment supported me and helped me grow personally and professionally into who I am."
About The DAISY Foundation
DAISY is an acronym for Diseases Attacking the Immune System. The DAISY Foundation was formed in November, 1999, by the family of J. Patrick Barnes who died at age 33 of complications of Idiopathic Thrombocytopenic Purpura (ITP).The Foundation works to honor nurses, fund nursing research and honor nursing faculty. For more information please visithttp://daisyfoundation.org/
For more information, contact:
Stacy Porter
Communications specialist
Phone: 937-641-3666
porters@childrensdayton.org