7/10/14news article
new research venture will put larger focus on pediatric neurosciences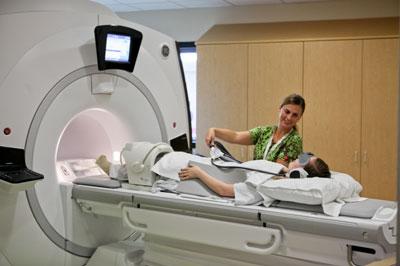 The Wright State University & Premier Health Neuroscience Institute, together with Dayton Children's Hospital, announce the affiliation of Dayton Children's with the institute to boost pediatric neuroscience research in the region and enhance pediatric care.
Dayton Children's clinicians and researchers will formally participate in a broad range of research and educational programs with the members of the Wright State University & Premier Health Neuroscience Institute.
The affiliation broadens the institute's research programs and infrastructure by creating the Dayton Children's Professorship of Pediatric Neuroscience. The new professor will focus on research into pediatric neurological disorders as well as providing clinical care at the hospital.
"This affiliation will expand a major public-private partnership that not only unites the Dayton region's most advanced biomedical research institution with tremendous clinical resources of major health care systems, but also illustrates how these partners have invested and collaborated to grow the health care sector that drives the region's economy," said Wright State University President David R. Hopkins.
"We are so excited to be joining our partners in the Neuroscience Institute. Dayton Children's is the only facility in this region whose sole mission is the health care of our children — so it's critical for us to put a larger focus on pediatric neurosciences and the brain development of our children," said Deborah Feldman, president and CEO of Dayton Children's Hospital.
The Neuroscience Institute was founded by Wright State and Premier Health in 2010 through a series of long-term investments. The Neuroscience Institute conducts cutting-edge, grant-funded neuroscience research and related clinical trials; attracts talented physician scientists and researchers; and enhances neurological care in areas of critical need for a growing patient population in the region.
The Neuroscience Institute has made great strides since its formation, including the development of a new Department of Neurology and Neurology Residency Program created in partnership by the Wright State Boonshoft School of Medicine and Premier Health. The new department has attracted top clinical neurologists to the region to improve patient care in the community.
"From its inception in 2010, the Wright State University & Premier Health Neuroscience Institute has made impressive progress that has been of benefit to patients from across the region and beyond. We welcome Dayton Children's Hospital and look forward to continuing on a path of innovation and collaboration for many years to come," said Jim Pancoast, president and CEO of Premier Health.
The institute has also successfully attracted new research funding, receiving $4.6 million from the National Institutes of Health in 2013 to improve the movement of badly injured limbs. And a $37 million Neuroscience Engineering Collaboration building is scheduled to open on Wright State's campus in March 2015 to house researchers and the institute.
"The Neuroscience Institute has grown tremendously since its formation with Premier Health, and it has transformed the region's capacity for medical research. Adding Dayton Children's to this initiative means that we can bring on board additional needed capabilities focusing on pediatric neuroscience and brain imaging," said Robert Fyffe, Ph.D., vice president of research and dean of the Graduate School at Wright State. "Such unprecedented, multifaceted collaboration between clinicians and researchers, across several institutions, truly positions Dayton as a national center for neuroscience research."
The affiliation builds on Dayton Children's existing partnerships with Wright State's Boonshoft School of Medicine.
"Dayton Children's Hospital and Premier Health hospitals serve as vital teaching hospitals, helping us train the next generation of physicians, and both are home to many of our residency programs," said Marjorie Bowman, M.D., dean of the Boonshoft School of Medicine. "This new affiliation will build on those longstanding partnerships and help to speed the transfer of research discoveries from bench to bedside."
Dayton Children's has committed to investing support for the pediatric neuroscience professorship for a minimum of five years, as well as laboratory start-up costs, to attract new research funding focused on pediatric neurological disorders, which range from epilepsy to movement disorders. A national search to hire a talented physician-scientist for the professorship position is underway.
"This new partnership with Dayton Children's Hospital gives us even greater visibility in the world of neuroscience and neurology," said Tim Cope, Ph.D., director of the Neuroscience Institute and chair and professor of neuroscience, cell biology and physiology at Wright State. "This unique collaboration allows us to improve and expand our ability to attract top-notch physicians and researchers to the Dayton region and to further strengthen our competitiveness for attracting federal and other research funding and support."
Researchers will also have continued access to a 3-Tesla MRI machine, a major technology investment by Dayton Children's that supports neuromedical imaging techniques crucial to cutting-edge research conducted by the Neuroscience Institute and the Wright State Research Institute.
Neurological disorders afflict tens of millions of Americans. They include common disorders such as stroke; neurodegenerative disorders such as Parkinson's disease, Alzheimer's disease and amyotrophic lateral sclerosis (ALS or Lou Gehrig's disease); multiple sclerosis, neuromuscular disorders and traumatic injury; and nervous system complications caused by diabetes, chemotherapy or peripheral nerve injury. Many of these common disorders impact the patient's ability to control movement, ranging from the ability to walk to the control of fine hand movements. Neurological disorders also impact children directly, including the many children and families who are dramatically affected by epilepsy disorders in particular.
The Neuroscience Institute has become a critical centerpiece for conducting neuroscience research, promoting ways to move the results of research directly from the laboratory to the bedside, providing outstanding neurological clinical care to the community and creating a clinical and research enterprise encompassing several of the region's major medical and research organizations.
about the partners
about Wright State
Wright State University (www.wright.edu) serves nearly 18,790 students and offers more than 100 undergraduate and 50 Ph.D., M.D., graduate and professional degree programs. WSU's Boonshoft School of Medicine is a community-based medical school affiliated with seven major teaching hospitals in the Dayton area. The medical school educates the next generation of physicians by providing medical education for more than 400 medical students and nearly 400 residents in 13 specialty areas such as surgery, family medicine and emergency medicine. Nearly 1,500 of the medical school's 3,033 alumni remain in medical practice in Ohio.
about Premier Health
The mission of Dayton, Ohio-based Premier Health (www.premierhealth.com) is to build healthier communities.  The health system operates four hospitals:  Miami Valley Hospital, with an additional site at Miami Valley Hospital South; Good Samaritan Hospital; Atrium Medical Center; and Upper Valley Medical Center.  In addition, the system offers a large primary and specialty care network, along with home health services.  Premier Health is the second largest employer in the region, and is the largest health care system in southwest Ohio.
about Dayton Children's Hospital
One of only 45 independent freestanding children's hospitals in the country, Dayton Children's is the region's only medical facility dedicated to children. Accredited by The Joint Commission and serving 20 Ohio counties and eastern Indiana, the experts at Dayton Children's care for more than 290,000 children each year. Consistently recognized as one of the country's best and most cost-effective pediatric hospitals, Dayton Children's is home to the Wright State University Boonshoft School of Medicine, Department of Pediatrics and together with the United States Air Force shares the nation's only civilian-military integrated pe­diatric training program. For more children's health and safety information, visit our web site at www.childrensdayton.org.
about Wright State University & Premier Health Neuroscience Institute
The Wright State University & Premier Health Neuroscience Institute represents a groundbreaking public-private partnership that unites the Dayton region's most advanced biomedical research institution with the clinical resources of its largest hospital system. Together, the neuroscientists of the Wright State University Boonshoft School of Medicine and Dayton Children's Hospital and the clinical neurologists of Premier Health:
Collaborate to conduct cutting-edge grant-funded research and clinical trials
Enhance care quality and access in an area of critical need for a growing patient population
Strengthen the economy and reputation of the region by earning international recognition as a center of excellence in neuroscience
For more information, contact: 
Stacy Porter 
Marketing Communications Specialist 
Phone: 937-641-3666 
porters@childrensdayton.org