10/2/15news article
new psychiatrist adds more accessibility for mental health services
Millions of children live with depression, anxiety, ADHD, autism spectrum disorders or other mental health issues. Experts say that up to one fifth of our children have a significant mental health disorder. The need for expert, child-focused care is growing.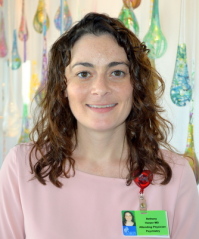 That's why Dayton Children's welcomes Bethany Harper, MD, to the psychiatry department. Dr. Harper is an assistant professor of psychiatry at Wright State and is a proud Raider – she completed her medical degree, residency and a fellowship in child and adolescent psychiatry there. She is also active in taking care of some of the Dayton area's most vulnerable children, through work for St. Vincent de Paul and Daybreak.
Dr. Harper joins psychiatrists Grace Matheson, MD, PhD, medical director, and Andrew Smith, MD, at Dayton Children's. They care for patients, ages 4 through 16, who have complex mental health needs with only limited improvement after taking multiple medications, severe autism and/or developmental delays, and medical conditions in addition to mental health concerns.
This is just the latest addition to Dayton Children's mental health services. Based on the results of the 2014 Community Health Needs Assessment, hospital leadership created the Center for Pediatric Mental Health to guide the creation of services and tailor them to the needs in the community. In just two years, the Center created a psychiatry department, added three psychiatrists and created an autism diagnostic center to provide faster diagnosis and connection to services. The hospital is improving access to specialty care for children in the Dayton region who need mental health help.
In addition, the Mental Health Resources Connection allows primary care doctors in the community to make a referral to a trained social worker who can connect families to local services. Dayton Children's website also offers the Special Needs Resource Center, a customizable search of the groups in the area that can help families with mental health issues.
For more information, contact:
Stacy Porter
Communications specialist
Phone: 937-641-3666
newsroom@childrensdayton.org