what is distraction osteogenesis?
Distraction osteogenesis is a procedure that helps lengthen a bone. Distraction osteogenesis allows for bigger corrections in bone position than is possible in a single traditional surgery. This improves the results and may reduce the amount of surgery your child needs over their lifetime
We are experienced in treating children of all ages with distraction osteogenesis. Our procedures help patients with:
Giving the brain room to grow
Repositioning the forehead and midface
Proportioning the bones and structure of the face
Improving airway
how the procedure work?
Our techniques help prevent scarring on your child's face as we make tiny incisions in the eye and inside mouth into the jaw.
In the first phase, called the "osteotomy/surgical phase", the bone is cut and a device is fitted which will be used in the next phases.
In the second phase, which lasts generally five to seven days, the appliance is not activated and early stages of bone healing is allowed.
In the third phase, the "distraction phase", the device, which is mounted to the bone on each side of the cut, is used to gradually separate the two pieces, allowing new bone to form in the gap. This happens at home after your child leaves the hospital. For 2 to 3 weeks after surgery, while your child is at home, a parent or caregiver turns 1 or more screws on the distractor 1 to 2 millimeters a day. This keeps tension on the wires and moves the face bones apart. New bone then grows. Once the bones are in the right position, turning stops. The bones heal in their new positions. Your child will have to eat soft foods for the entire time the distractor is on. When the new bone is strong enough, the distractor is removed during a very short second operation.
When the desired or possible length is reached, a consolidation phase follows in which the device keeps the bone stable to allow the bone to fully heal. After the consolidation phase, the device is removed in a second surgical procedure.
what does the device look like?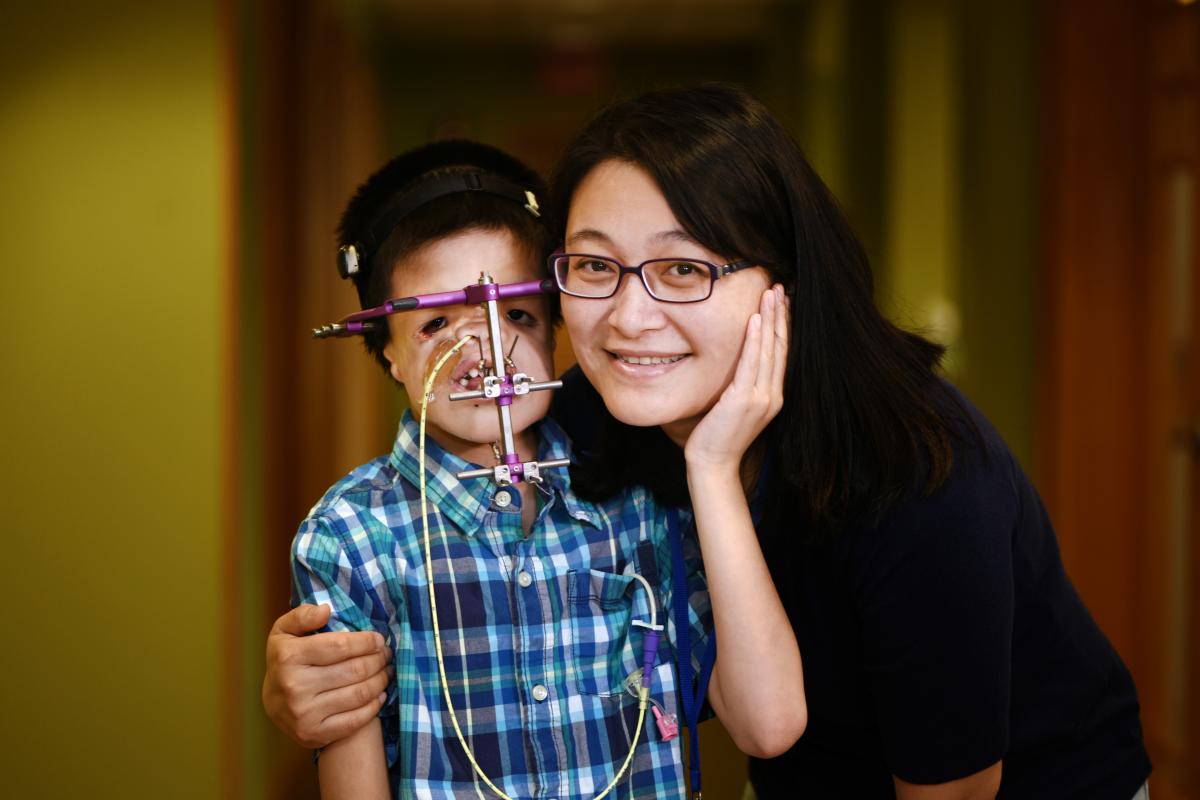 For midface distraction surgery, the device is usually a U-shaped headframe. The surgeon fastens it around the top of your child's head and attaches it with special screws called "pins."
A metal bar attaches to the headframe in front of your child's forehead. Another bar attaches at the level of your child's mouth and this bar has a turning lever. The turning lever is wired to a dental splint bonded to the upper teeth. Often there are also wires connecting to tiny pins placed in your child's face as well.
Sleeping is not usually an issue as the headframe has an opening in back.
Smaller devices are used for lower jaw distraction.