4/6/15news article
Dayton Children's welcomes a new hospitalist
hospitalists are pediatricians that specialize in caring for kids in the hospital setting
When parents hear they have to take their child to Dayton Children's, that can be pretty scary. It may help to know that when children have to be admitted and stay for a while, there is a team of doctors that specialize in coordinating their care while they are here. Those doctors are called hospitalists.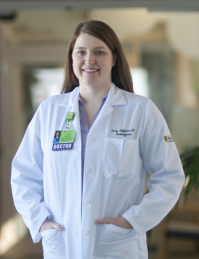 Dayton Children's is pleased to welcome Amy Jeffers, MD, as our newest hospitalist. Dr. Jeffers joins a team of pediatricians who provide care for infants, children and teens admitted to general pediatric units at Dayton Children's.
Dayton Children's hospitalists are pediatricians who not only know how to care for the very special needs of children, but how to care for them in a hospital environment. They provide comprehensive care, using the latest research on how best to care for children in the hospital and connecting the patient to treatments and services they need to heal. They serve as a liaison to a child's primary care doctor to make sure the circle of care continues once the child leaves the hospital.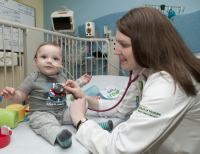 Dr. Jeffers earned her medical degree from Wright State University Boonshoft School of Medicine. She then completed her residency and pediatric internship at Loyola University Medical Center, Stritch School of Medicine before going on to work as a pediatric hospitalist at Alexian Brothers Women and Children's Hospital in Hoffman Estates, Illinois, a northwest suburb of Chicago. During that time she was also an affiliated assistant professor in the department of pediatrics at Loyola University Medical Center, Stritch School of Medicine.
Dr. Jeffers is interested in international health as well as serving the underserved. She was part of a pediatric mobile van unit that went to Chicago area schools and neighborhoods to provide physicals, immunizations and routine health screenings. She also was involved in the Zambia International Service Immersion and the Swaziland International Medical Student Experience.
Dr. Jeffers is a member of the American Academy of Pediatrics and Physicians for Human Rights. She is passionate about animals as well. She volunteers at Wild Again: Center for Wildlife Rescue, Rehabilitation and Release in Spring Valley. Dr. Jeffers also enjoys playing the cello and saxophone and is trained in dance performance and education.
For more information, contact:
Stacy Porter
Communications specialist
Phone: 937-641-3666
porters@childrensdayton.org