When your child needs surgery, we know it can be a stressful and uncertain time. That is why our team places a high priority on communication. We want you to know what to expect, understand the treatment plan and receive answers to all your questions. Our goal is for your experience at Dayton Children's to be a positive one! Learn as much as you can before the big day. Ask your child's doctor, nurses, or staff to provide you with information about your child's procedure.
If your child is old enough, help her understand what will be happening and why without using alarming language like "the doctor will cut you open." Be open and honest with your child giving as much information as she can understand.
Surgery can be scary for kids of all ages. So you need to understand their fears and talk about them.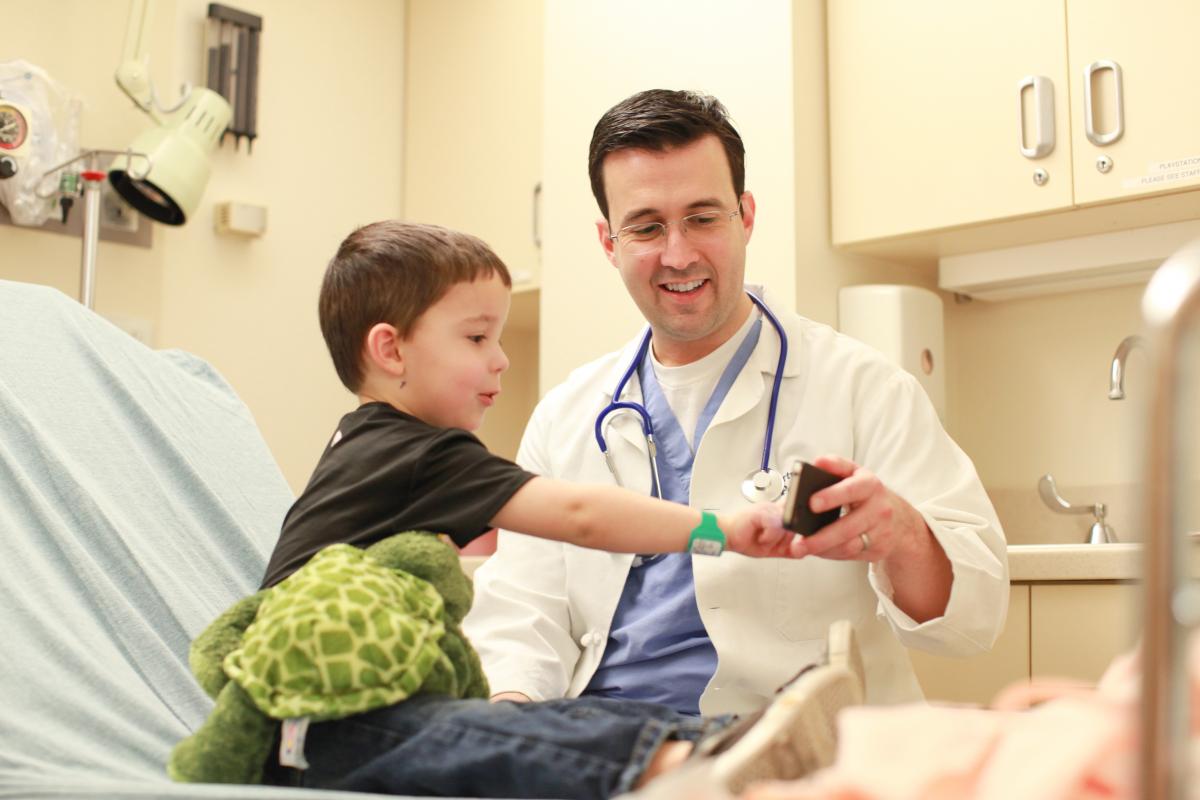 Common fears of young children are separation from you and the possibility of pain
School-age children may fear needles, knives and damage to their bodies. Let them know the surgery will fix the problem.
Teenagers may have additional fears—losing control, missing out on activities, being embarrassed or sounding childish. Teens may also be afraid of waking during the operation or not waking afterward. We have developed additional information to help you prepare for surgery below.
before your child's surgery or procedure
Wondering what questions to ask before your child's surgery? If you have time, review and complete the following checklist at least one week before your child's scheduled surgery or procedure. Being prepared will help you and your child feel less anxious.
call your insurance company
If you have any questions or concerns about your insurance coverage please call your insurance company before your appointment. If your plan contains a preferred provider list, please confirm that Dayton Children's physicians are included.
If your plan requires a referral from your primary care provider, have your primary care doctor fax it to us at 937-641-4500 at least four days before your child's visit.
If you have questions about the referral, contact central scheduling at 937-641-4000. Please call after your child's doctor has sent the referral.
copayments
Copayments will be collected at the time of service and can be paid with cash, personal check or major credit card. Your insurance company can tell you how much your copy will be. We can give you an estimate of the copayment before you arrive for your child's appointment.
take a tour
If your child is scheduled for surgery, you may be interested in a pre-surgery tour to help your child feel more at ease. To arrange a tour, please call our child life team at 937-641-5903.
The pediatric surgical services division at Dayton Children's has 70 specialists trained to perform surgical procedures on kids, and together they have hundreds of years of experience caring only for kids.
talk to your child about anesthesia
It may help your child handle the stress and uncertainly of the procedure or surgery if you have a conversation ahead of time about what to expect. Here are a few talking points to consider:
Let your child know where you'll be during the whole experience. Reassure your child that you'll be in the waiting room nearby during the surgery and in the recovery room when he or she wakes up after the surgery. You may also be able to sit with your child until he or she falls asleep before the surgery. Discuss this with your anesthesiologist.
And explain that (in many outpatient procedures), your child can come home soon after the surgery is done.
request x-rays and test results
Talk to your child's primary doctor to find out if he or she will be sending test results and x-rays or if you will need to bring them to your child's appointment.
make a list of medicines
Make a list of all prescription and nonprescription medicines and supplements (vitamins, herbal medicine, etc) your child is taking, or bring the medicine bottles with you. Make sure you have the name of each medicine as well as the dosage and instructions.
give permission to treat if you can't be with your child
find places to stay and eat
Many of our surgeries do not require an overnight stay. If you will be staying overnight, see our overnight accommodations.
There is room for one parent to stay overnight in the child's room. Overnight accommodations are available at the Ronald McDonald House located across the street from Dayton Children's, as well as other area hotels and motels.
The Ronald McDonald House may also be able to help you find a local motel or hotel that offers discounts to families of patients at Dayton Children's.
Meals are available for purchase through the hospital cafeteria. The patient relations manager, your child's nurse or the information desk can give you a list of area dining, shopping and entertainment options.
arrange for child care
It is important you are able to focus on your hospitalized child. Please arrange for child care if you have other children at home. Dayton Children's does not provide child care for visiting brothers and sisters.
understand visitation policy
Parents or guardians may visit 24 hours a day and all other visitors such as brothers and sisters, may visit from 10:00 am to 8:00 pm.
Please note that some special care units (such as pediatric intensive care and the Newborn Intensive Care Unit have limited visiting privileges). Check with special care units for visiting information.
General visiting should be limited to three people at a time per patient and only two siblings may visit at a time. Visiting brothers and sisters younger than 15 years of age must be screened for communicable diseases and supervised by at least one adult.
Please see before your visit for more information on visitation.
tell us about your special needs
If your family has special needs, requires a wheelchair, a sign language interpreter, a language translator or any other type of assistance, please let us know before your arrival so we can make you and your family as comfortable as possible.
Our child life specialist in surgery helps children both before and after surgery. She works with patients to talk through what is going to happen in surgery and provides distraction techniques. For children with special needs our child life specialist will contact the family prior to their surgery to discuss coping strategies for before and after surgery.
tell us about your cultural beliefs
Please let us know about any personal, cultural or spiritual beliefs or practices that may affect your child's treatment and care.
apply for financial assistance
Dayton Children's is a not-for-profit medical center, which cares for all children regardless of financial circumstances. We are committed to working with families to help you pay your medical bills. You can apply for Financial Assistance before, during or after your child receives care at Dayton Children's. See our billing section for more details.
understand your hospital bill
For information on paying your bill, see our billing section. Your child's anesthesia services will be provided by Children's Anesthesia Group, Inc. These services are billed separately from the hospital. Children's Anesthesia Group, Inc may accept different insurance plans than Dayton Children's. Talk to your insurance company before surgery to make sure all services will be covered.
know how to get here
We want to make it easy to find Dayton Children's. Visit locations to obtain door-to-door directions, written directions and an area map. If you are traveling from out of town and need a place to stay, please also visit our visitation and sleepovers section
For help with directions, call 937-641-3000.
after surgery
Our team provides education to help you prepare for your child's post-surgery needs, and in many cases will schedule your child's follow-up clinic appointment before you leave the hospital.
After patients return home, our team continues to provide support and care. If you have questions or need assistance, please call the pediatric surgery clinic at 937-461-5020. After hours, dial 937-641-3000 to reach the hospital's operator, and ask for the pediatric surgeon on call.