2/17/12news article
website ranks in top 10 nationally
A study published in the latest edition of Journal of Healthcare Management ranked the Children's Medical Center of Dayton's website among the nation's top nine hospital and health system websites.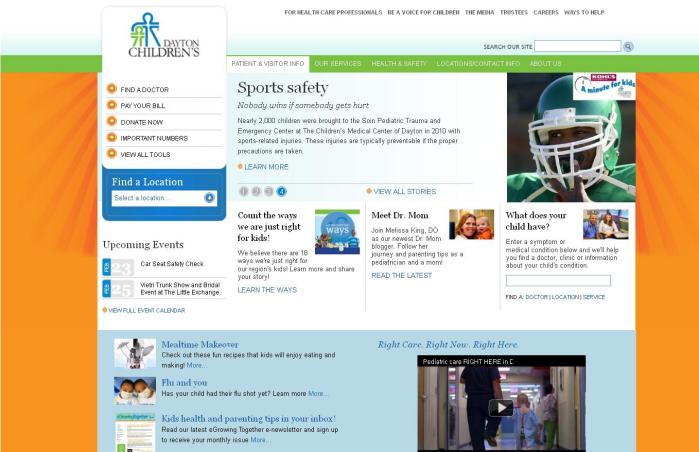 The study assessed hospital websites in four key criteria: accessibility (ease of use for people with low computers skills), content (freshness, quality and amount of content), marketing (how readily and reliably information can be accessed using search engines), and technology (download speed, site structure, code quality).
"We know how important it is for a parent to have access to information on their child's health and well-being," says Kelly Kavanaugh, director of marketing communications at Dayton Children's. "Therefore, we spend a lot of time focusing on our website in order to make it easy for parents to find that information and understand what it means."
In the study, Dayton Children's received a score of 8.1 out of 10, tying them for fifth place with five other hospitals. Arizona Cancer Center received the highest score of 8.4.
Dayton Children's continues to make changes and improvements to their website on a daily basis. Users are encouraged to contact the marketing department with any concerns or suggestions.
Read related articles:
For more information, contact: 
Grace Rodney 
Marketing Communications Specialist 
Phone: 937-641-3666 
marketing@childrensdayton.org