4/15/22blog post
a powerful snack for your athlete
Need a quick snack for your on the go athlete? Try this simple and quick power ball recipe to give more power and energy to the entire family! Made with energizing whole grain oats and protein packed nut butter these power balls can make a great snack.
About 30-60 minutes before sporting events, aim to top off your energy storage. The main fuel source for a pre-sporting event will be carbohydrates. Carbohydrates are the primary source of fuel during exercise. Glycogen is the state of carbohydrates when they are stored in the body. Glycogen is the fastest form of energy available to the working muscle and can be released up to three times quicker than energy from any other source, this is why it is important to eat a snack rich in carbohydrates!
For post-sporting events or post-practice, focus on a snack with both carbohydrates and protein. Re-refuel within 30 minutes of completion of exercise. Carbohydrates act to replace fuel in the muscles used in exercise, and protein's role is to repair and rebuild muscle. Eating an optimal post-exercise snack will reduce post-exercise soreness so young athletes can get back to their sport!
Involve the kids in making a batch of power balls for the week! Get creative and add your  favorite add-ins such as craisins, raisins, chia seeds, pumpkin seeds, etc. Let the kids choose what they want to mix in! Making a batch of these power balls ahead of time can ease weekday stress and encourage optimal fueling for sporting events when on the go!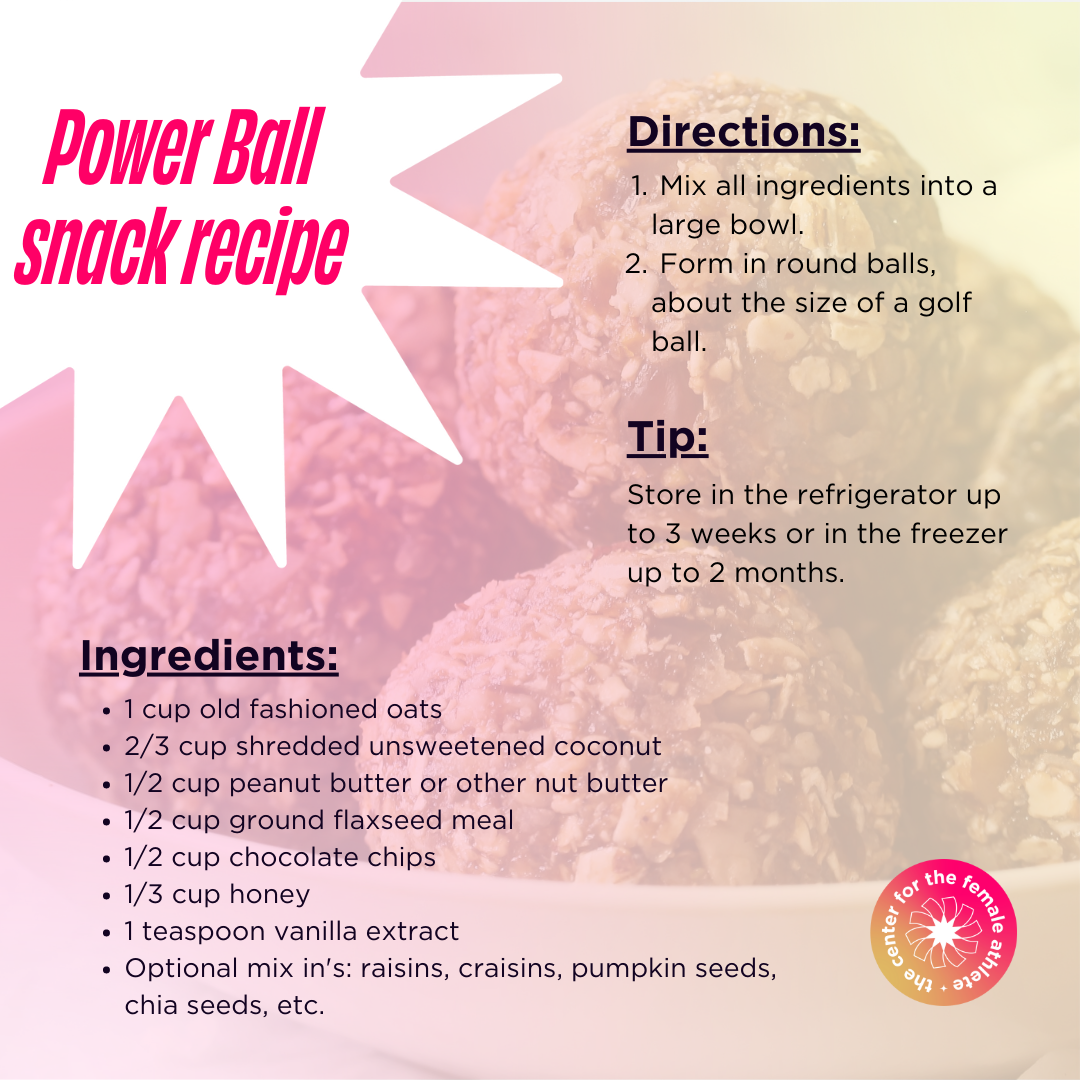 Are you ready to find out if the Center for the Female Athlete is right for you? Take our 1-minute quiz and schedule a 30-minute free, virtual consultation with one of our athletic trainers to find out! Consults are available Monday - Friday and can be booked online at a time convenient for you.