1/14/19news article
new partnership will bring bone marrow transplants to Dayton Children's
collaborative joins Nationwide Children's Hospital and Dayton Children's Hospital in cancer and blood disorders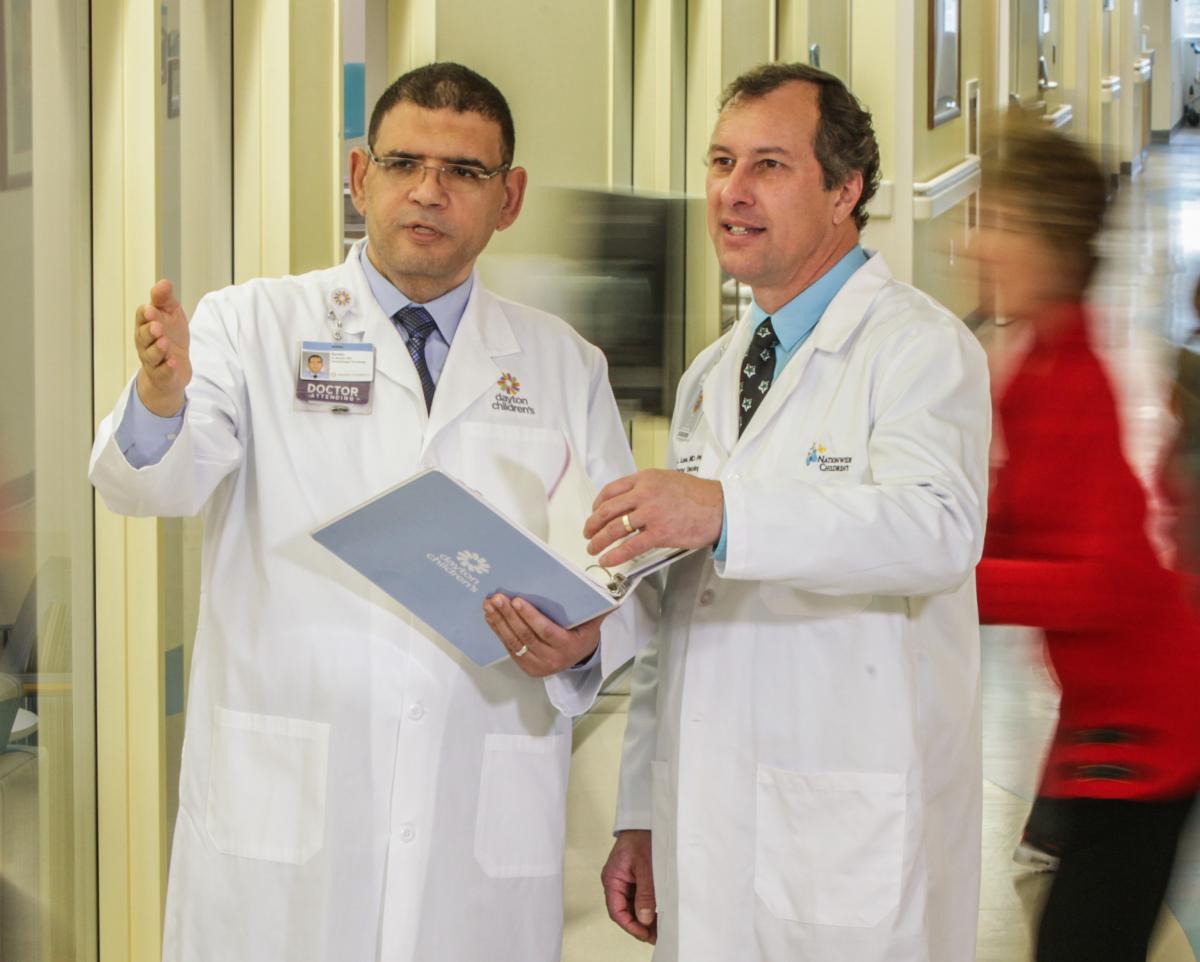 Dayton Children's Hospital and Nationwide Children's Hospital have announced a cancer, blood disorder and bone marrow transplant collaborative that will enhance services, create more research opportunities for both institutions and allow more patients from the Dayton region to stay closer to home during treatment.
In addition to sharing physician services and offering more clinical trials to patient families than ever before, the collaboration will allow Dayton Children's to offer autologous bone marrow transplants for the first time. Nationwide Children's experts will train Dayton Children's nursing staff by sharing their experiences and best practices. The procedure includes harvesting a child's stem cells from their bone marrow before chemotherapy. The harvested stem cells then are returned to the child after treatment is complete to help their body build normal blood cells.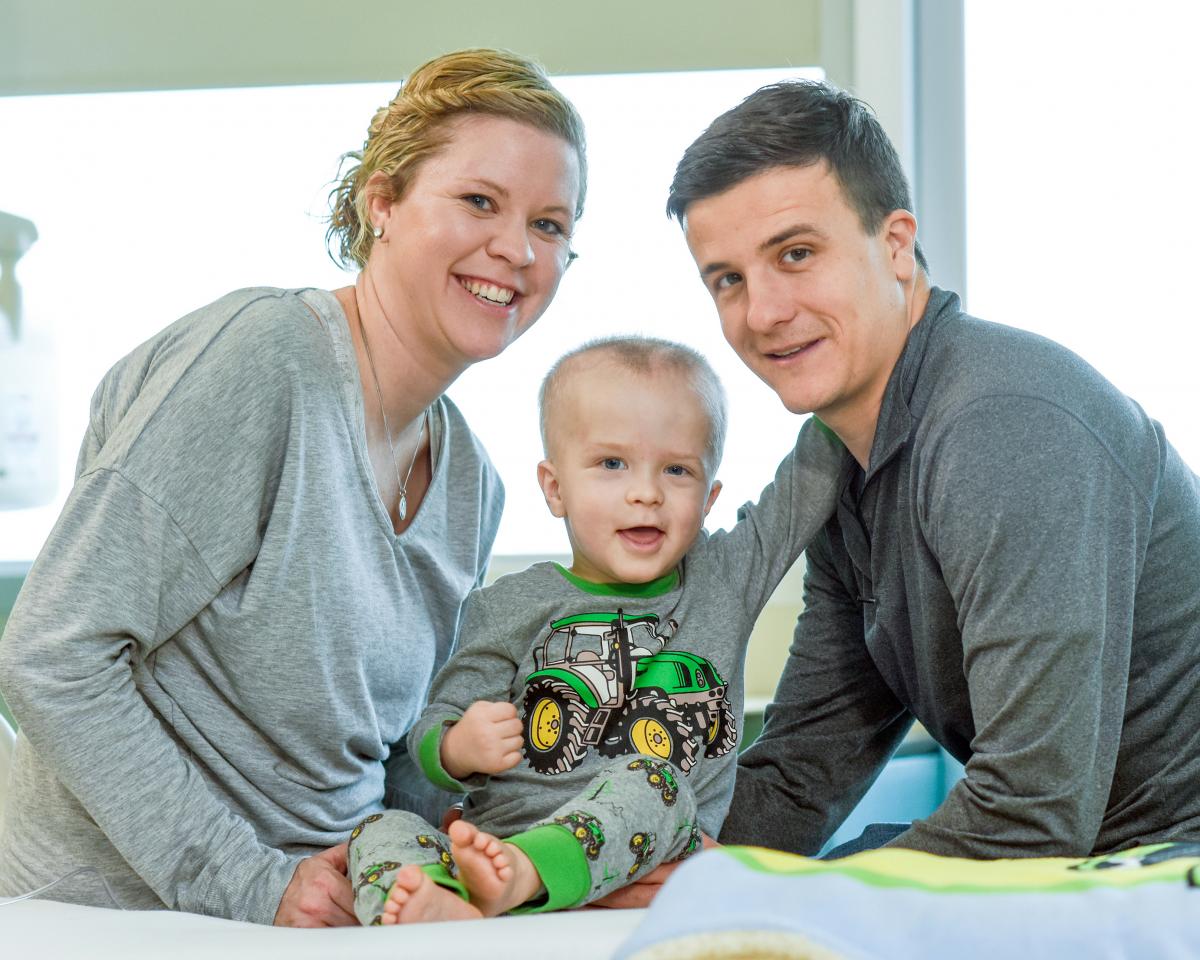 "Our collaboration with Nationwide Children's Hospital will provide more advanced services than ever before at Dayton Children's and make life a little easier for our patients and families," says Ayman El-Sheikh, division chief of hematology/oncology at Dayton Children's Hospital. "The comfort and support system of home cannot be overstated for a family who is enduring a several-year treatment span for cancer in their child."
Dayton Children's has a long tradition of quality cancer care. The overall survival rate for children treated at Dayton Children's is higher than the national average. Dayton Children's was one of the first hospitals in the country to offer a long-term follow up program for children who have survived pediatric cancer. In the last eight years, the number of former cancer patients in the program has more than doubled, a reflection of those high cure rates. In addition, Dayton Children's is a member of the Children's Oncology Group (COG). This connection means a child treated at Dayton Children's gets the exact same advanced treatment protocols that they would get at any of the 200 member children's hospitals and cancer centers anywhere in the world.
Nationwide Children's Hospital's hematology/oncology/bone marrow transplant services is ranked fifth in the 2018-19 U.S. News & World Report standings. Additionally, the hematology/oncology/BMT program at Nationwide Children's has the highest overall outcomes score nationally as recognized by U.S. News & World Report and has earned the highest possible score in patient survival following a bone marrow transplant as noted by the national publication.  
"The alliance with Dayton Children's Hospital is an example of Nationwide Children's vision to share learnings and discoveries that will provide best outcomes for children everywhere," said Timothy Cripe, MD, PhD, division chief of hematology, oncology and bone marrow transplant at Nationwide Children's Hospital. "Like-minded hospital initiatives, such as the NEXT Consortium, impact children in the U.S. and around the world, all with the goal that any new cancer treatments developed at Nationwide Children's is shared with institutions globally."      
This initiative is part of the Ohio Pediatric Care Alliance. Formed in October 2013, the Alliance formalized the long-standing partnership between Dayton Children's and Nationwide Children's and allowed the two independent children's hospitals to share resources, avoid duplication and better utilize limited pediatric specialists.
"The Alliance provides a structure for working collaboratively on initiatives that further the shared mission of both hospitals—to provide high quality, cost-effective, accessible care to all children," says Deborah Feldman, president and CEO, Dayton Children's.
Three other initiatives currently operate under this umbrella: a joint outpatient specialty care center and a pediatric practice in Springfield, collaborative on heart services quality initiatives as well as a Lima clinic, and shared services in urology.
"One of the most important ways pediatric hospitals achieve best outcomes for children is by learning from each other," says Steve Allen, CEO, MD, Nationwide Children's Hospital. "Our relationship with Dayton Children's has proven for years that families are best served when we work together, and this expansion of the alliance will allow even more of Ohio's youngest residents to benefit."
About Dayton Children's Hospital
One of only 45 independent freestanding children's hospitals in the country, Dayton Children's is the region's only medical facility dedicated to children and caring for them regardless of their ability to pay. Accredited by The Joint Commission and serving 20 Ohio counties and eastern Indiana, the experts at Dayton Children's care for more than 320,000 children each year. Consistently recognized as one of the country's best and most cost-effective pediatric hospitals, Dayton Children's has been recognized by U.S. News & World Report, the American Nurses Credentialing Center (ANCC) as Magnet-recognized, accredited with commendation by the American College of Surgeons Commission on Cancer and the only verified pediatric trauma center in the region.  Dayton Children's is home to the Wright State University Boonshoft School of Medicine, Department of Pediatrics and together with the U.S. Air Force shares the nation's only civilian-military integrated pe­diatric training program. For more children's health and safety information, visit our web site at www.childrensdayton.org.
About Nationwide Children's Hospital
Named to the Top 10 Honor Roll on U.S. News & World Report 's 2018-19 list of "Best Children's Hospitals," Nationwide Children's Hospital is one of America's largest not-for-profit freestanding pediatric health care systems providing wellness, preventive, diagnostic, treatment and rehabilitative care for infants, children and adolescents, as well as adult patients with congenital disease. Nationwide Children's has a staff of more than 13,000 providing state-of-the-art pediatric care during more than 1.4 million patient visits annually. As home to the Department of Pediatrics of The Ohio State University College of Medicine, Nationwide Children's physicians train the next generation of pediatricians and pediatric specialists. The Research Institute at Nationwide Children's Hospital is one of the Top 10 National Institutes of Health-funded freestanding pediatric research facilities. More information is available at NationwideChildrens.org.