11/7/13news article
Hila Collins, MS, RN, CPNP-AC, CIC named director of clinical safety and high reliability
In July, Hila Collins, MS, RN, CPNP-AC, CIC was named the director of the clinical safety and high reliability department. This department will take over what was formerly the Ohio Children's Hospitals Solutions for Patient Safety (OCHSPS) quality initiative department.
Since 2009, Dayton Children's has been a part of OCHSPS, a state-wide learning network. Some of the initial work focused on reducing surgical site infections and adverse drug reactions. Over the course of the last two years, the focus of the learning network has been to eliminate all patient harm. To that end, there have been extensive error prevention training of employees and staff, implementation of the daily safety brief and senior leader walk rounds.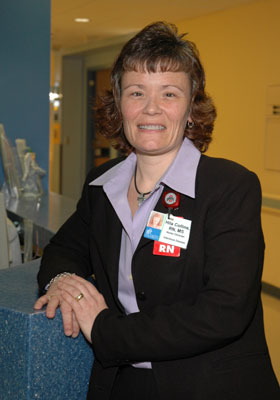 In addition to this culture work, the focus has now been extended to nine hospital acquired conditions, which include ventilator associated pneumonia, catheter associated blood stream infections and urinary tract infections, venous thromboembolism, falls, pressure ulcers, readmissions, surgical site infections and adverse drug events.
This expansion of the patient safety program at both the state and national level has given Dayton Children's the opportunity to refocus our efforts on eliminating patient harm. To that end, what was the OCHSPS quality initiative department has become the clinical safety and high reliability department led by Hila, nursing director, and a chief safety medical officer which we are currently recruiting. Hila has led this work with Dr. James Ebert for the last two years while continuing her clinical practice in infectious disease and sleep medicine.
As we move to achieve our Destination 2020 goals of being in the top quartile of national benchmarks in patient safety, Hila will transition out of her infectious disease nurse practitioner role and focus on clinical safety.