3/3/14news article
Gogi Kumar, MD, named medical director for child neurology
Dayton Children's Hospital has named Gogi Kumar, MD, medical director for child neurology.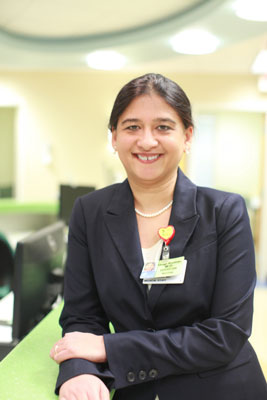 Dr. Kumar has served as interim medical director for child neurology since 2013 and has been a child neurologist at Dayton Children's since 2005. She is also an assistant professor of pediatrics at Wright State University Boonshoft School of Medicine. Dr. Kumar completed her pediatric residency at the Brooklyn Hospital Center in New York. She also completed a residency in child neurology at New York's Schneider's Children's Hospital. Dr. Kumar is board certified by the American Board of Psychiatry and Neurology with special qualifications in child neurology.
"With her leadership, and the hard work and support of her colleagues, great things have been accomplished over the last several months in the neurology department" says Adam Mezoff, MD, vice president and chief medical officer at Dayton Children's. "I am confident going forward that Dr. Kumar is the right leader for our neurology team at Dayton Children's."
The department of child neurology at Dayton Children's is committed to providing the highest quality care for infants to adolescents with a variety of neurological disorders including Tourette syndrome, cerebral palsy, neurocutaneous diseases, headache and seizure disorders. The neurology team is composed of six board-certified neurologists, one pediatric nurse practitioner, clinical care coordinators and EEG technologists, all of whom are specially trained to care for pediatric patients. The department offers advanced multidisciplinary diagnostic and therapeutic management 24 hours a day. The inpatient and outpatient EEG lab performs all varieties of electroneurodiagnostic testing, including video EEGs. The dedicated neurology staff also offers a weekly seizure support class to help parents provide better care for their children.
For more information, contact: 
Grace Jones 
Marketing communications specialist 
Phone: 937-641-3666 
marketing@childrensdayton.org