7/23/13news article
Dayton Children's welcomes new neonatologist
Olutoye Osunbunmi, MD, has recently joined the neonatology department at Dayton Children's Hospital. He most recently completed a fellowship in neonatal-perinatal medicine at the University of Texas Southwestern Medical Center in Dallas, Texas.
Dr. Osunbunmi joins the department of neonatology at Dayton Children's after completing a fellowship at University of Texas' Southwestern Medical Center. Dr. Osunbunmi received his medical degree from University of Ilorin in Ilorin, Nigeria, and completed a pediatric residency at the Bronx-Lebanon Hospital Center in Bronx, New York. He is board certified in pediatrics.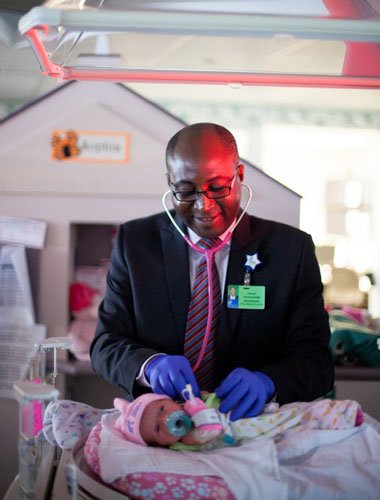 Dayton Children's Regional Level III B NICU is the region's referral center for premature and sick newborns. The staff provides care for the region's most fragile babies. Our state-of-the art, developmentally centered unit offers a full range of newborn care through a prenatal team that includes board-certified neonatologists and neonatal nurse practitioners with quick access to more than 35 pediatric specialties if needed. With the addition of Dr. Osunbunmi, the department now has three highly trained neonatologists.
Dayton Children's Hospital and Miami Valley Hospital recently formed a joint venture, Southwest Ohio Neonatal Collaborative, to provide the highest level of care for high-risk moms and critically-ill premature babies. The focus of the joint venture is to elevate the quality of care and strengthen the health care delivery system for mothers and babies by drawing on the expertise of the two regional high-risk centers.
For more information, contact: 
Stacey Porters
Marketing Communications Specialist 
Phone: 937-641-3666 
porters@childrensdayton.org