4/14/14news article
Dayton Children's pediatric neurology team nationally designated as a Level 3 epilepsy center
Dayton Children's Hospital neurology division earned designation by the National Association of Epilepsy Centers as a Level 3 center for the treatment of complex pediatric epilepsy.  Receiving the designation certifies that Dayton Children's has the professional expertise and facilities to provide the highest level medical evaluation and treatment for patients with complex epilepsy.
Dayton Children's is one of only 160 designated epilepsy centers in the United States and the only one in the region.
"We are very proud of this designation," shares Gogi Kumar, MD, medical director for neurology. "Parents want to know that their child is receiving the absolute best quality when looking for treatment options," explains Gogi Kumar, MD, medical director for neurology. "This designation is proof that we have the absolute best quality of epilepsy treatment and care in our region."
Epilepsy centers provide a team approach to the diagnosis and treatment of epilepsy with the overall goal to control and reduce the frequency of seizures for patients.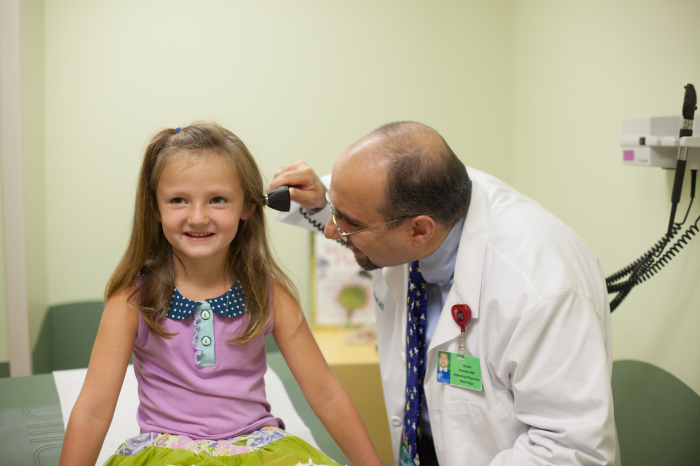 Epilepsy is a disease of the central nervous system, affecting 2.5 million Americans, in which electrical signals of the brain misfire. These disruptions cause temporary communication problems between nerve cells, leading to seizures.  Each year, Dayton Children's cares for more than 2,500 epilepsy patients.
Level 3 epilepsy centers must meet the following guidelines to receive designation:
Electroencephalography (EEG) services
Epilepsy surgery for seizures caused by tumors as well as vagal nerve stimulator implantation
Neuroimaging
Neuropsychological and psychological services
Pharmacological expertise
Nursing support (specific to epilepsy)
Rehabilitation (in and outpatient)
Access to expertise in multiple fields  (neurosurgery, psychiatry, internal medicine, pediatrics, general surgery, obstetrics/gynecology)
Dayton Children's neurology department has six pediatric neurologists, three of whom are epileptologists; Gogi Kumar, MD; Haidar Kabbani, MD; and PA Noorani, MD.  These physicians utilize advanced testing capabilities to diagnose and treat epilepsy patients. The EEG laboratory at Dayton Children's Hospital provides advanced neuro-diagnostic testing and has a well-equipped epilepsy monitoring unit.
The department of neurology offers epilepsy treatment options including medication management, a ketogenic diet program and vagus nerve stimulator implantation in collaboration with Dayton Children's department of pediatric neurosurgery.
About the National Association of Epilepsy Centers
NAEC is a non-profit 501c6 trade association with a membership of more than 100 specialized epilepsy centers in the United States. Founded in 1987 by physician-leaders committed to setting a national agenda for quality epilepsy care, NAEC educates public and private policymakers and regulators about appropriate patient care standards, reimbursement and medical services policies. NAEC is designed to complement, not compete with, the efforts of existing scientific and charitable epilepsy organizations.
About Dayton Children's
One of only 45 independent freestanding children's hospitals in the country, Dayton Children's is the region's only medical facility dedicated to children and caring for them regardless of their ability to pay. Accredited by The Joint Commission and serving 20 Ohio counties and eastern Indiana, the experts at Dayton Children's care for more than 290,000 children each year. Consistently recognized as one of the country's best and most cost-effective pediatric hospitals, Dayton Children's has been recognized as by the American Nurses Credentialing Center (ANCC) as Magnet, accredited with commendation by the American College of Surgeons Commission on Cancer and the only verified pediatric trauma center in the region. Dayton Children's is home to the Wright State University Boonshoft School of Medicine, Department of Pediatrics and together with the U.S. Air Force shares the nation's only civilian-military integrated pe­diatric training program. For more children's health and safety information, visit our web site at www.childrensdayton.org.
For more information, contact: 
Grace Jones 
Marketing Communications Specialist 
Phone: 937-641-3666 
marketing@childrensdayton.org