1/11/17news article
Dayton Children's opens 24/7 pediatric emergency department on south campus
bringing the highest level of care, convenience and compassion to the children of Dayton's southern suburbs
The highest level of customized emergency care for a child seriously hurt or ill is now available closer than ever to southern suburban families. The Dayton Children's south campus emergency department is open, complete with 16 beds, a trauma room and 24-hour access.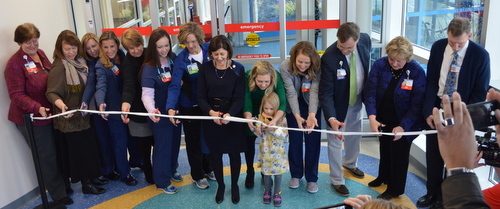 Children are not just little adults. They react in different ways to illness and injury, medications and treatments. Dayton Children's experts are specially trained to care for children in any emergency. A pediatric emergency room is the best place for any child, from birth to age 18, to be seen for serious injury or illness.
"The increasing needs of the community have resulted in growing emergency volumes, treating children for everything from a fever to life-threatening injuries," says Thomas Krzmarzick, MD, medical director of Dayton Children's emergency department. "With the largest population of children here in the southern suburbs and the continued growth, we know that moms and dads expect us to be here to take care of our kids."
"My girls are still little and I have already been to the Urgent Care a few times," says Holly Allen, Springboro mom of two daughters. "It's comforting to know that an emergency department just for kids is now available so close, too. I know if something serious happens, I will not have far to go to get the best care, customized just for them."
That's why each member of the emergency department staff, from doctor to nurse to medical imaging technician, has extra training in the special needs of children. Trauma-credentialed, pediatric emergency physicians lead the team and focus on customizing each treatment for the specific needs of the child.
When needed, the Mobile Intensive Care Unit can transfer the child to the main campus which has the region's only American College of Surgeons certified pediatric trauma center. This transfer between Dayton Children's facilities is always free for the family. Once at the main campus, the child can be admitted to surgery, intensive care or another inpatient unit to receive the specialized pediatric care they need to make the best possible recovery.
Medical training isn't the only thing that makes a difference for a child in a pediatric emergency room. Dayton Children's emergency departments have dedicated child life specialists. They are trained to engage children and distract them in a situation that may make them nervous or uncomfortable. By using "tickle bugs," lights or even just tablets, these specialists know how to turn fear into fun.
"We are listening to our patient families who consistently tell us they want more services closer to home," says Deborah A. Feldman, president and CEO of Dayton Children's. "Expanding our Springboro campus and providing a 24/7 emergency department provides the world-class pediatric care for children that they deserve, right in their backyard. It is all part of our Destination 2020 plan to advance our role as the leader in children's health."
For more information, contact:
Stacy Porter
Public relations manager
Phone: 937-641-3666