12/15/14news article
Dayton Children's nurse practitioner earns elite spot
nursing doctorate puts her among top one percent of nurses in education across the country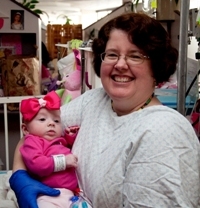 Dayton Children's neonatal nurse practitioner Lisa Jasin, MSN, NNP-BC, just earned her doctorate in nursing from Wright State University, making her one of nursing's elite.  Statistics show that less than one percent of nurses nationwide have a doctoral degree. 
When a nurse earns a doctorate, babies benefit.  "It is a privilege and an honor to care for the region's most fragile babies here at Dayton Children's," Lisa says.  "The focus of a Doctor of Nursing Practice degree is to translate the research that's out there into practice here, getting the latest information and advances in care to the bedside of our tiniest patients faster."
Lisa has worked in the Dayton Children's Newborn Intensive Care Unit for eight years as a neonatal nurse practitioner (NNP).  She is one of three doctorate-prepared nurses at Dayton Children's.  In addition, the entire nursing staff is Magnet-recognized – nursing's highest honor. 
You might think that earning a doctorate would be enough to keep Lisa busy, but she's also leading the educational efforts for those who want to follow in her footsteps.  She's teaching the next generation of NNPs as the program director of the newly formed Neonatal Practitioner Program, a unique venture with Wright State University and the University of Cincinnati, sponsored by Dayton Children's.
The goal of the program is to provide well-prepared nurses in neonatal medicine through increased education. The collaboration allows both colleges to offer courses that they otherwise couldn't, providing for a more cost-efficient, specialized program.
For example, prior to the program starting, courses such as "Translation of Evidence to Practice, Primary Care to Age 2 and Advanced Clinical Competencies for NNP Practice" weren't offered.
Through the program, Wright State students will have the opportunity to train at Dayton Children's Level IIIB newborn intensive care unit (NICU), as well as the NICUs at Kettering and Miami Valley Hospitals.  University of Cincinnati students train at several Level III NICUs in their region, with the option to also train at Dayton Children's.
"This type of real-world experience improves a student's knowledge because it allows them to experience different methods of care across several nurseries throughout the region," Lisa explains. Currently, there are six students enrolled with capacity for 14 openings between Dayton and Cincinnati.
about Dayton Children's NICU
Dayton Children's Regional Level IIIB NICU is the region's referral center for premature and sick newborns. The staff provides care for the region's most fragile babies. Our state-of-the art, developmentally centered unit offers a full range of newborn care through a prenatal team that includes board-certified neonatologists and neonatal nurse practitioners with quick access to over 30 pediatric specialties if needed.
Newborns who reach Dayton Children's center have a very high survival rate and a low incidence of complications, even though they are the region's sickest babies. Patient families also rate Dayton Children's staff and their care at the highest levels of satisfaction (98.5 percent), ranking the unit in the top five percent in patient satisfaction in the country.
For more information, contact: 
Stacy Porter 
Communications specialist 
Phone: 937-641-3666