9/1/15news article
Dayton Children's newest cardiologist will inspire change, one heart at a time
Smita Mehta, MD, not only wants to heal our kids' heart troubles - she wants to stop them before they start. As the newest member of Dayton Children's cardiology department, she plans to spearhead a preventive cardiology program - to prevent cardiovascular disease and educate health care providers, families and patients about ways to stay heart healthy.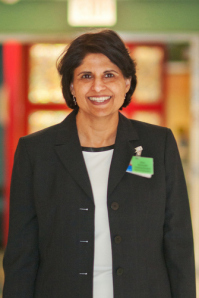 Having served as a primary care pediatrician for many years, Dr. Mehta is very connected to what our community physicians need and wants to work closely with them on community wellness initiatives. She has a history of community involvement, including serving as a consultant for the WHO's pioneer Stop Transmission of Polio (STOP) team in Nepal and obtaining grants for schools in Nevada.
Her medical career has been a whirlwind:
Medical degree - Christian Medical College in Vellore, India
Residencies - St. Stephen's Hospital in Delhi, India and at Cook County Children's Hospital in Chicago
Attending pediatrician - Mesa View Regional Hospital in Mesquite, Nevada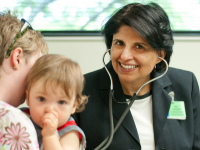 She determined she could impact change even more by focusing on preventive cardiology. She completed a fellowship in pediatric cardiology at the Cleveland Clinic and an advanced fellowship in preventive pediatric cardiology at Cincinnati Children's Hospital Medical Center. Dr. Mehta also earned a graduate certificate in clinical and translational research at the University of Cincinnati.
Preventive cardiology will not only focus on preventing premature cardiovascular aging in our youth but also expand the focus in raising awareness of sudden cardiac arrest in children. Dr. Mehta sees patients with hypertension, dyslipidemia and syncope, as well as those in the general cardiology clinic.
Dayton Children's cardiology department sees nearly 5,000 children in the outpatient clinics every year, providing diagnosis and treatment of acquired heart problems and congenital heart disease or malfunction in children. Recently added programs include an adult congenital heart disease clinic, a certified fully-digital echocardiography laboratory and an upgraded exercise center capable of supporting metabolic information as well as showing how well blood flows through the heart muscle.
Dr. Mehta is determined to impact our community and better the health and well-being of our children. With a busy professional life, she enjoys meditation, poetry, volunteering and Ikebana. In her spare time, she's learning Korean!
For more information, contact:
Stacy Porter
Communications specialist
Phone: 937-641-3666
newsroom@childrensdayton.org