5/21/12news article
Dayton Children's honors outstanding nurses
nurses honored during Nurse's Day celebration on Wednesday, May 9
The Children's Medical Center of Dayton recently honored several outstanding nurses for their contributions during the annual Nurse's Day celebration on Wednesday, May 9. These awards are given each year to nurses who were nominated by other hospital employees for excellence in nursing.
Excellence in Nursing Award winners:
Alice Rivera of Beavercreek, surgical services: Clinical Judgment
Amanda Hofmann of Miamisburg, Soin Pediatric Trauma and Emergency Center: Advocacy/Moral Agency
Elizabeth Lee of West Carrollton, inpatient care: Caring Practices
Molly Depoorter of Beavercreek, surgical services: Collaboration
Sandra Bartosik of Kettering, pulmonary medicine: Clinical Inquiry
AmyKosanovich of Kettering, inpatient care, Response to Diversity
Alysia Brazel of Englewood, Soin Pediatric Trauma and Emergency Center: Systems Thinking
Cheryl Coffey of Englewood, hematology/oncology clinic: Facilitator of Learning
Jennifer Ayers of Kettering, Newborn Intensive Care Unit: Outstanding New Employee
Kristen Morey of Enon, Intermediate Care Unit/ Pediatric Intensive Care Unit: Outstanding New Graduate
Mari Jo Rosenbauer, RN, of Dayton was awarded the prestigious Cameo of Caring Award for 2012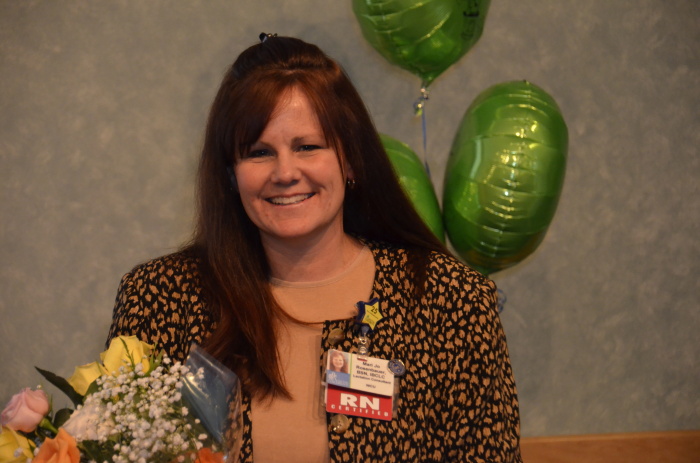 The Cameo of Caring is an awards program created by Wright State University-Miami Valley College of Nursing and Health to recognize frontline nurses who make a difference in the lives of patients and their families.  This year's winner is Mari Jo Rosenbauer of the Newborn Intensive Care unit.  Since 1986, Mari Jo has served in many roles as a nurse in the Dayton Children's NICU.  She began her career as a staff nurse and later became a transport nurse, where she worked on a team transporting critically ill babies from area hospitals to the NICU.  Mari Jo's positive impacts are felt throughout the hospital and she is known for her excellence in advocacy and in patient care. 
Mari Jo developed an interest in the bonds of family and healthy nutrition and pursued a special certification that has positively changed the way babies are cared for at Dayton Children's.  "She serves as a lactation consultant and has implemented programs and processes that improve the outcomes of nearly every infant cared for in the NICU," says Renae Phillips, RN, MSN, NEA-BC, FACHE, vice president for patient care services, at an awards ceremony last week. 
One of Mari Jo's many notable accomplishments is her leadership role in initiating the donor breast milk program. This helps to  provide breast milk to babies whose mothers are unable to do so.  Dayton Children's advocates for the use of breast milk for all infants, and acts as a collection site for the Mother's Milk Bank of Ohio. 
"Mari Jo is a professional, caring representative to our families, our employees and to the region"says Phillips.
For more information, contact: 
Grace Rodney 
Marketing Communications Specialist 
Phone: 937-641-3666 
marketing@childrensdayton.org