8/7/17news article
Dayton Children's opens new outpatient surgery center in south Dayton suburbs
completes final phase of south campus expansion plan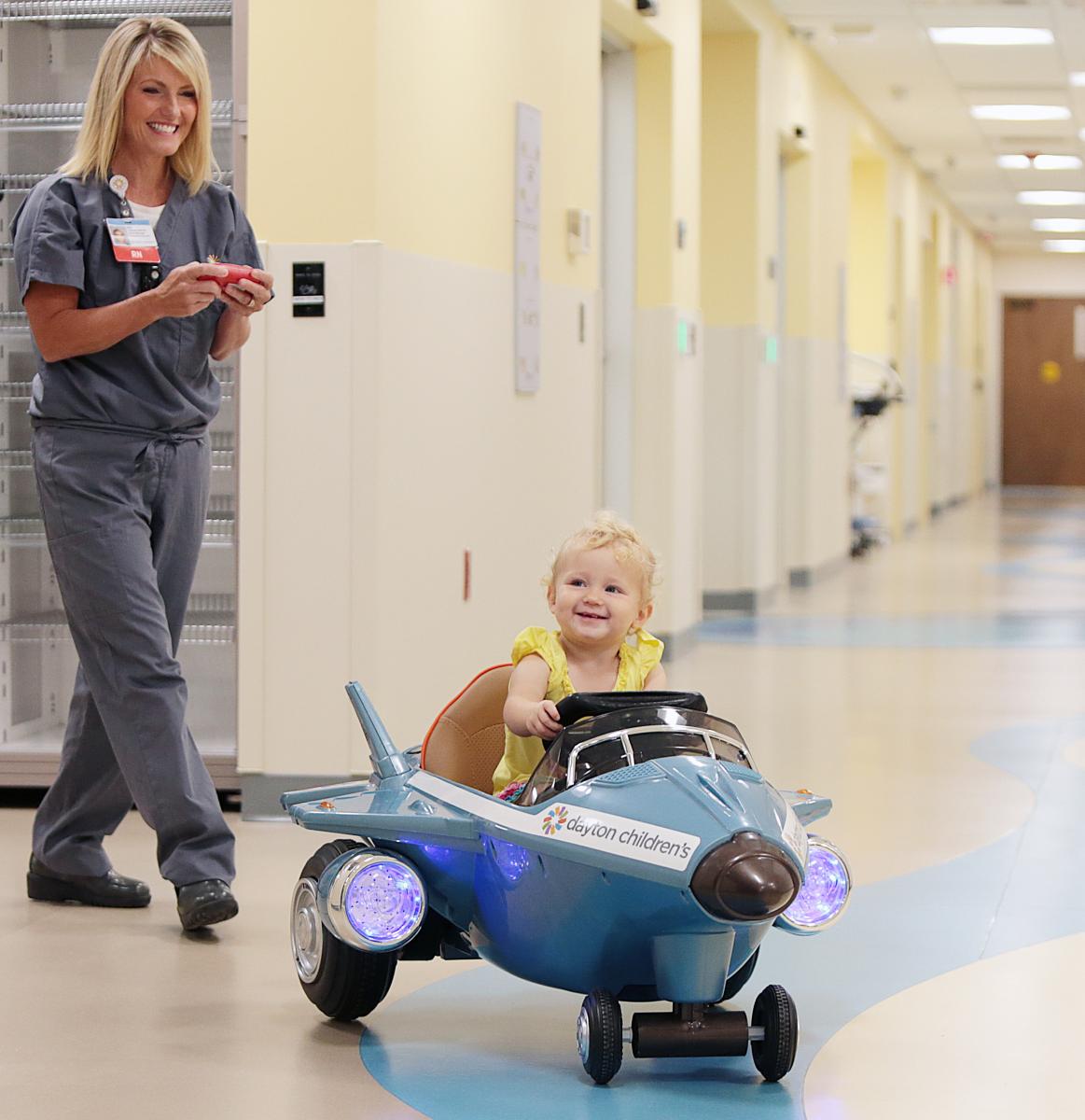 The inaugural flight of an airplane officially opened Dayton Children's south campus outpatient surgery center.  Of course, this airplane was only three feet across and never left the ground, but it was still as thrilling as a trip in an F16 for 2-year-old Cora.  This remote-controlled plane is how many of the youngest children will make their way to the operating room at the new surgery center.
"This is just one of the ways that we make care different at Dayton Children's," says Deborah A. Feldman, president and CEO.  "Everything we do is focused on what makes the best overall experience for children and their parents.  Whether it be a fun way to get to the operating room or having doctors and nurses who are specially trained in caring for kids, parents can know that when they come to Dayton Children's, their child is our top priority."
Using a distraction device like this airplane has been shown to reduce the need for pre-operative medications to ease anxiety in children by up to 70 percent - a win-win for parent and child. 
Surgeries at the outpatient center will focus on shorter procedures for otherwise healthy children, such as tonsils and tubes or hernia repairs.  More complex or longer surgeries, or those for sicker children, will still take place at the main campus in Dayton.
Dayton Children's south campus outpatient surgery center has:
Eight pre-operative rooms
Two induction rooms, where parents can stay with their child during anesthesia
Four operating rooms
Post anesthesia care unit with spaces for four beds
Eight post-operative rooms
Families can see these spaces by downloading the Dayton Children's Tour Buddy app.  Simply search for Dayton Children's in the app store.
What makes this center so special?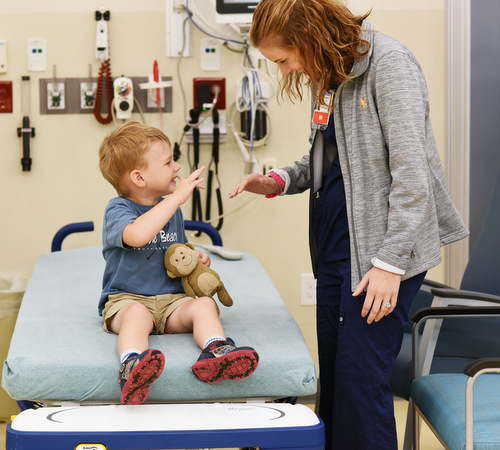 This center is designed to streamline the process for families.  From parking, to registration, to post-op, every single process is designed to be simple to navigate and easy for parents.  The pharmacy will even deliver medications to the family before they leave, if necessary. 
This space also offers the option of induction rooms.  These are rooms in which mom and dad can be present while their child goes to sleep.  While many patients may not need to use the induction room, it can greatly reduce anxiety for parents and the child to be together during this process. 
As always, the entire care team at Dayton Children's is specially trained to care for infants, kids and teens and we offer the only pediatric anesthesiologists in the Dayton area.  "Children are not just little adults," says David Gooden, DO, medical director of the south campus surgery center and a pediatric anesthesiologist.  "Their bodies react differently to medications and stress.  We train longer to have the skill, knowledge and expertise to provide children the expert care they need."
The completion of the outpatient surgery center completes Dayton Children's south campus expansion.  Started in summer 2016, the expansion includes a specialty care center, an emergency department, a retail pharmacy, a café and a refresh of the existing urgent care spaces.