11/9/15news article
AT&T brings new virtual reality simulator to Dayton Children's Hospital
3D experience teaches drivers the dangers of distracted driving
In a recent survey by AT&T, 77 percent of teenagers reported they saw their parents text while driving. As the biggest influencer in a child's world, parents may not realize the message they are sending to their kids when they check "a real quick email" or send "just a short little text" while behind the wheel.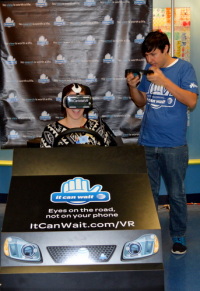 That's why AT&T* brought a virtual reality simulator to Dayton Children's Hospital today - to highlight the dangers of distracted driving. AT&T's commuter survey shows that 7 in 10 people engage in smartphone activities while driving.** People are doing much more than texting from behind the wheel.
To drive home the message and these new findings, AT&T brought a virtual reality simulator to Dayton Children's Hospital with Montgomery County Sheriff Phil Plummer. Employees and visitors to the hospital experienced firsthand how dangerous it is to take their eyes off the road and look at a phone.
"Our children are paying the price," says Thomas Krzmarzick, medical director of the Soin Pediatric Emergency and Trauma Center at Dayton Children's Hospital. "We see more than 500 kids a year who have been involved in an accident with a motor vehicle. Some of them will never be the same, with severe neurological complications, and it's all because someone felt that an email, a text or a phone call was more important than a child's safety."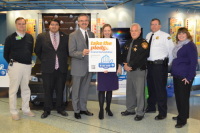 "Driver distraction has been proven to be a significant cause of car crashes, many causing serious injury or death. Programs like this go far to raise awareness about the importance of driving distraction-free," said Montgomery County Sheriff Phil Plummer. "We encourage all drivers to take this time to make the commitment toward safer and distraction-free driving."
"Using a smartphone while driving can be deadly – for drivers, their passengers and for everyone on the road," said Mark Romito, Director, External Affairs, AT&T. "A post, a selfie, a text, a scroll, an email while driving -- one look is all it takes. This new simulation shows the real consequences of looking at your phone while driving, and together with Dayton Children's Hospital we want to remind drivers to keep their eyes on the road, not on their phone. It can wait."
In addition to the new virtual reality resources and tour, AT&T's new ad campaign will help broaden recognition that the smartphone distracted driving problem is bigger than texting. Through slow-motion cinematography, viewers are able to see the jarring aftermath of taking their eyes off the road to glance at or tap on a smartphone while driving.
Viewers can find the 30-second spots featured in national TV programming and on ItCanWait.com. They can also visit AT&T's YouTube page to view the 30-second spots and the full-length feature.
AT&T and the Ohio Department of Public Safety (ODPS) are also inviting Ohio high school students to submit ideas for video messages discouraging smartphone distractions behind the wheel. Students may send written video scripts or concepts to ODPS in December and January for the It Can Wait/Safer Ohio Video Challenge. Several students will have their ideas selected for production in 2016.
Students can send a video script or description up to 700 words to between December 1 and January 31. AT&T and ODPS will select up to six and The Ohio Channel will produce these for ODPS. Students who submit a selected idea will receive a prize package including a wireless tablet from AT&T. Those who want to submit a video idea can find guidelines athttp://www.publicsafety.ohio.gov/links/odps15videochallenge.pdf.
About It Can Wait
A national movement urging drivers to visit www.ItCanWait.com. They can pledge on the site to keep their eyes on the road, not on their phone. Then, they can share their pledge via Twitter (#ItCanWait) and Facebook. The campaign started by focusing on not texting and driving. It has now expanded to the broader dangers of smartphone use behind the wheel. Since its launch in 2010, it has:
Helped drive awareness of the dangers of texting while driving to about 90 percent for all audiences surveyed
Inspired more than 7 million pledges not to text and drive
Worked with departments of transportation in Texas, Kentucky and other states on research that suggests a correlation between It Can Wait campaign activities and a reduction in crashes
*AT&T products and services are provided or offered by subsidiaries and affiliates of AT&T Inc. under the AT&T brand and not by AT&T Inc.
**Research commissioned by AT&T and conducted by Braun Research. Polled 2,067 people in the U.S. aged 16-65 who use their smartphone and drive at least once a day. Additional information available here.
About AT&T
AT&T Inc. (NYSE:T) helps millions around the globe connect with leading entertainment, mobile, high speed Internet and voice services. We're the world's largest provider of pay TV. We have TV customers in the U.S. and 11 Latin American countries. In the U.S., our wireless network has the nation's strongest 4G LTE signal and most reliable 4G LTE. We offer the best global coverage of any U.S. wireless provider*. And we help businesses worldwide serve their customers better with our mobility and highly secure cloud solutions.
Additional information about AT&T products and services is available at http://about.att.com. Follow our news on Twitter at @ATT, on Facebook at http://www.facebook.com/att and YouTube at http://www.youtube.com/att.
© 2015 AT&T Intellectual Property. All rights reserved. AT&T, the Globe logo and other marks are trademarks and service marks of AT&T Intellectual Property and/or AT&T affiliated companies. All other marks contained herein are the property of their respective owners.
Signal strength and reliability claims based on nationwide carriers' 4G LTE. Signal strength claim based ONLY on avg. 4G LTE signal strength. 4G LTE not available everywhere.
*Global coverage claim based on offering discounted voice and data roaming; LTE roaming; voice roaming; and world-capable smartphone and tablets in more countries than any other U.S. based carrier. International service required. Coverage not available in all areas. Coverage may vary per country and be limited/restricted in some countries.
For more information, contact:
Stacy Porter
Communications specialist
Phone: 937-641-3666
newsroom@childrensdayton.org