11/11/13news article
Abiodun Omoloja, MD, named chief medical informatics officer
Abiodun Omoloja, MD, will assume the critical role of chief medical informatics officer on December 1, leading our efforts of better utilizing EPIC to support clinical and patient experience initiatives.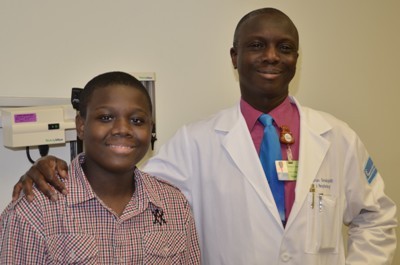 Modern technology is a crucial momentum builder in Destination 2020 and we identified a significant need to name a chief medical informatics officer to lead our efforts of better utilizing our EPIC system to support clinical, business, research and patient experience initiatives.
Dr. Omoloja's experience is a perfect blend for this role, which includes significant experience in the clinical setting as well as a wealth of experience in business and informatics.
Dr. Omoloja began his career at Dayton Children's in 2002 after completing a residency at Bronx Lebanon Hospital Medical Center in New York and a fellowship at Cincinnati Children's.  He is a graduate of the Health Care Management certificate program at Wright State University's Boonshoft School of Medicine, and he recently completed a Masters of Business Administration (MBA) with a concentration in health care at the Raj Soin School of Business at Wright State University.
Dr. Omoloja has been a member of the American College of Physicians Executives (ACPE) since 2010, and he is currently enrolled in its health information technology leadership certificate program.
Dr. Omoloja's leadership role on several key research projects will be invaluable in this new role.  Moving forward, he will continue to remain a nephrologist at Dayton Children's, but his main responsibilities will shift to this critical role of physician informatics.