Kids Express video visits - telehealth for sick kids
What is Kids Express? Plain and simple, it's quick care for sick kids. Now even more convenient with the option for video visits! 
The pediatric-trained nurse practioners with Kids Express can see patients virtually for a variety of minor conditions from the comfort of your home. 
Kids Express is also available for in-person visits in Springboro, Beavercreek, Mason or West Chester. Learn more. 
reminder
Kids Express is not an urgent care or an emergency department. Parents should choose those other options if their child is having trouble breathing, bleeding profusely, needs stitches, imaging or care above what a pediatrician could take care of during an office visit
ages treated
Kids Express treats patients 6 weeks to 21 years.
what you can expect
conditions treated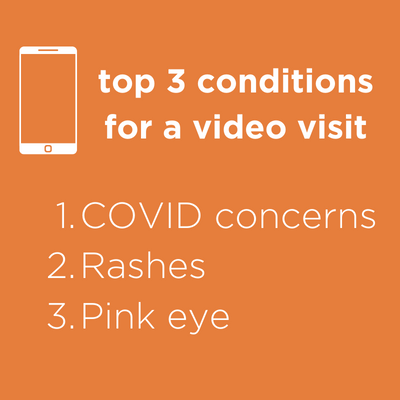 The Kids Express team can see patients virtually for the conditions listed below. Please note that patients must be in the state of Ohio during the video visit. 
Conditions seen virtually include:
Allergies
Bug bites
Constipation
COVID concerns
Headache (non-chronic) 
Minor injuries to help determine if your child needs to be seen in person
Minor respiratory conditions
Pink eye
Rashes
Vomiting and diarrhea
how it works 
Use the save your spot feature to choose a time that is convenient for you and your child. 
When it is time for your appointment, you will receive a text message with instructions on logging in. Be sure that your child is available and awake for the appointment. 
Our nurse practitioner will join you virtually and assess your child. If a prescription is needed they can send it to Dayton Children's pharmacy for curbside pickup or to the pharmacy of your choice. 
If our nurse practitioner believes your child needs to be seen in person they can convert the visit for your child to be seen at one of our Kids Express or Urgent Care locations and you will only receive one charge. 
payment
All payments must be made using check or credit/debit card. If you have insurance, but don't have your current card, you will need to pay the retail list price in full. No cash is accepted. We accept Visa, Mastercard and Discover.
if you have insurance:
Please provide your insurance card and we will collect any copay due at the time of service. Then, we will bill your insurance company. You may get an additional bill from us after your insurance processes the claim, as you may potentially owe an additional amount.
if you are uninsured:
We offer a single price of $99 for your visit.  Our registration staff will collect payment in full via credit/debit card from you at the time of the service.
Please note: If you choose to pay upfront or to use your insurance, we can't go back and bill insurance or provide you the list price after the date the service is provided.