7/31/19blog post
worth the travel
Even a move to South Carolina couldn't keep this family away from receiving diabetes care at Dayton Children's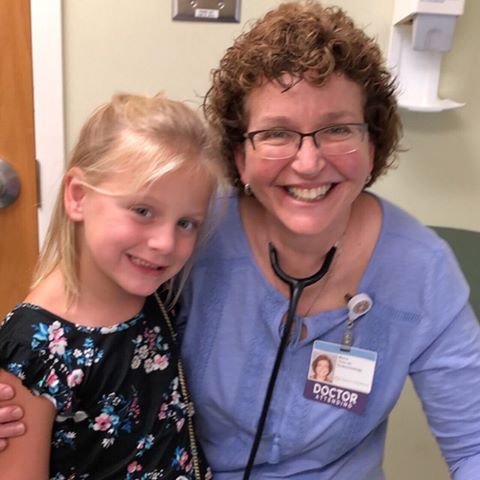 How far would you travel to get the best care for your kid? For one mom, even after moving away from Dayton, she knew she wanted to keep her daughter's ongoing diabetes management right here with Dr. Pfeifer! Check out the note she sent us:
"Two and a half years ago was (what I thought) the worst day of my life. Our sweet four year old didn't have a UTI, she had Type 1 diabetes. This was a life changing diagnosis. We didn't know how we were going to handle it, how we would learn all of the information, and how we would keep Lauren healthy while still maintaining the fun life style she had before.
I feel SO blessed and SO thankful that we were living in Dayton when Lauren was diagnosed. The endocrinology department at Dayton Children's is nothing short of amazing. The nurses, dietitians and volunteers were all so helpful and comforting. Dr. Pfeifer was caring, compassionate, and because of her own Type 1 diagnosis knew exactly what Lauren was feeling in that moment. They helped us, held us while we cried and got Lauren's blood sugar back in range.
A few months after diagnosis, we moved to Charleston, SC. We thought this was goodbye. We were devastated but we knew with the knowledge that Dr. Pfeifer and her team gave us we would be ok. After a year and a half and a terrible experience in SC we decided we would travel to see Dr. Pfeifer. My husband was skeptical, he wondered how they would stay on top of her numbers and care, with us being so far away.
Fast forward to today, Lauren started her pump. The team has responded to every one of my my-chart questions, even multiple questions a day. They have answered our calls, called us back, walked us through our ER visits, and kept Lauren's school up to date on her care plan. Truly, I can't put into words how grateful I am for Dr. Pfeifer and the whole endocrinology team. My daughter is healthy and happy, living her best life because they gave us the tools to be successful.
I hope that no other child ever has to go through this diagnosis but, if they do, I hope they get as lucky as Lauren to be treated at Dayton Children's."