4/20/21blog post
the hidden culprit of play injuries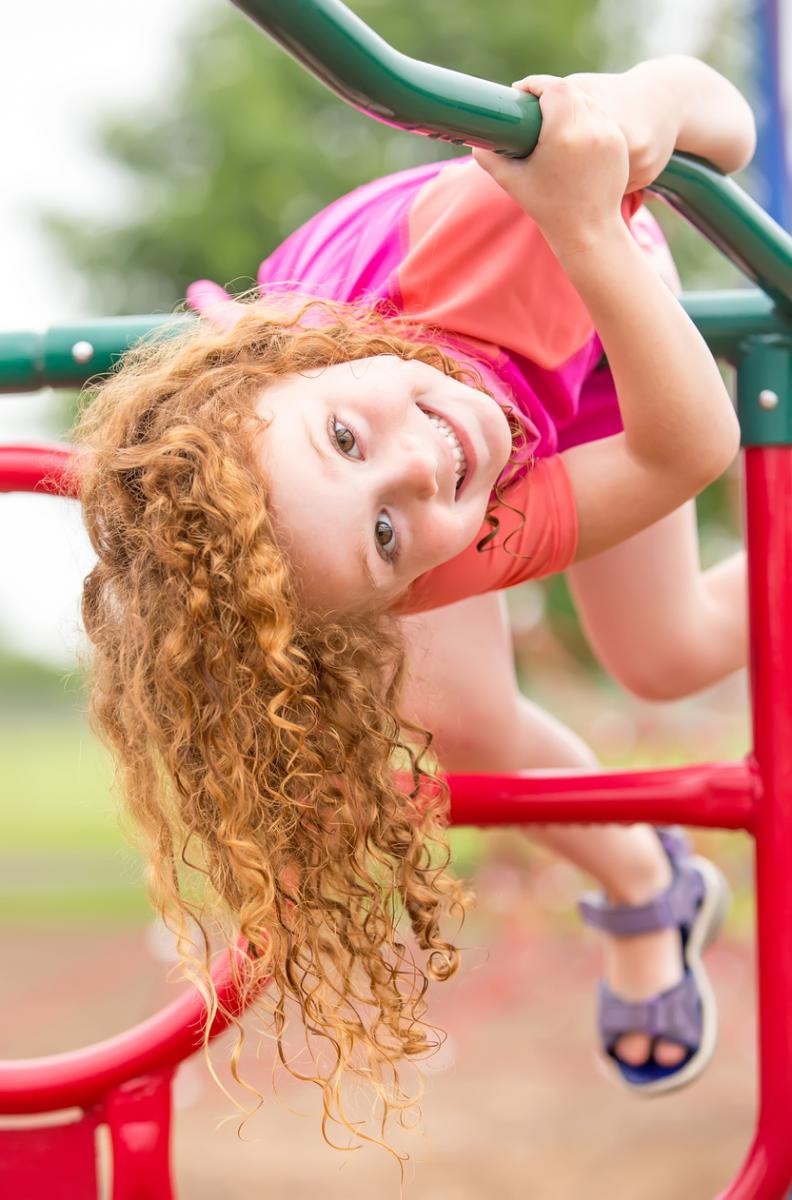 Who doesn't remember the carefree feeling of swinging upside down, with your knees hooked over the monkey bars? It's almost an iconic image of what it means to be a child.
According to the Centers for Disease Control and Prevention, each year in the United States, emergency departments treat more than 200,000 children ages 14 and younger for playground-related injuries. More than 20,000 of these children are treated for a traumatic brain injury (TBI), including concussion.
"Up until about the age of 10, kids are head-heavy," says Lisa Schwing, trauma program manager at Dayton Children's Hospital. "Their head is the heaviest part of their body, and proportionately bigger to their body size than an adults. Because of this, if they fall, they are always going to go headfirst, leading to a higher likelihood of head injuries."
The CDC states that falling off monkey bars and swings tend to be the most common cause of an injury that sends kids to the emergency department across the country.
In 2020, Dayton Children's emergency department saw 583 kids due to injuries sustained during play, but the data shows a different culprit – trampolines.
Of all play injuries seen in Dayton Children's emergency department:
51% were from trampolines
14% from swings 
12% from monkey bars
"There is a great deal of energy generated on a trampoline, especially if you have two children on at the same time," explains Schwing.  "The bigger child lands, pushes the material down and as the smaller child comes down, the material rebounds, catapulting that child at a rate greater than he or she could have generated on their own."
So while trampolines may not be the best outdoor activity, parents can't and shouldn't ban kids from the playground.
"Kids need play time, especially physical outdoor play time," agrees Schwing.  "The best thing parents can do is select a playground that has a good surface - rubber matting, wood chips, etc. - something that will cushion the fall more than concrete or grass. Second, supervision is essential, especially for younger kids who may be wobbly climbing stairs or swinging."
It's always safe to get your child evaluated if you suspect a concussion. Symptoms include headache, dizziness, loss of consciousness, vomiting, exhaustion, memory loss or a change in personality.
9 tips for teaching kids about playground safety
Another key part of playground safety: Kids must know how to be safe and act responsibly at the playground.
Kids should know to:
Never push or roughhouse while on jungle gyms, slides, seesaws, swings, and other equipment.
Use equipment properly — slide feet-first, don't climb outside guardrails, no standing on swings, etc.
Always check to make sure no other kids are in the way if they're going to jump off equipment or slide, and land on both feet with their knees slightly bent.
Leave bikes, backpacks, and bags away from the equipment and the play area so that no one trips over them.
Always wear a helmet while bike riding, but take it off while on playground equipment.
Never use playground equipment that's wet because moisture makes the surfaces slippery.
Check playground equipment in the summertime. It can become uncomfortably or even dangerously hot, especially metal slides, handrails, and steps. So use good judgment — if the equipment feels hot to the touch, it's probably not safe or fun to play on. Contact burns can happen within seconds.
Wear clothes without drawstrings or cords. Drawstrings, purses, and necklaces could get caught on equipment and accidentally strangle a child.
Wear sunscreen when playing outside even on cloudy days to protect against sunburn.
To learn more about playground safety click here.