5/22/15news article
Women's Board donates record-breaking $512,085 to Dayton Children's NICU
all funds raised from community and business support for the 25th anniversary CHA-CHA event
The Dayton Children's Hospital Women's Board presented doctors, nurses and staff from the NICU (newborn intensive care unit) with a check for $512,085. All the money was raised at the 25th anniversary CHA-CHA event on May 9, 2015. This breaks the record for how much the event has raised in the past.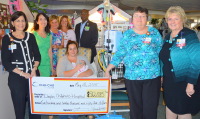 "This donation will help us transform our NICU, as we revitalize our campus through our Destination 2020 plan," says Debbie Feldman, president and CEO of Dayton Children's. "It will help us provide all private rooms for the families who come to us, allowing for an even better experience and more support when they are going through difficult times."
The Women's Board has been supporting Dayton Children's for more than 50 years. This was the 25th anniversary of the CHA-CHA event. It is a biennial fundraiser that includes dinner, a live auction and entertainment. There is also a silent auction of items donated from area businesses, as well as the "Love Bowl," a craft project by a former Dayton Children's NICU twins, Sydney and Hannah O'Connor.
"This truly shows what a great community we live in," says Ann McDonough, Sugarcreek Township resident and CHA-CHA co-chair. "Not only did the community give generously, but the area businesses were so giving with their donations. We had a record-breaking number of guests at this year's CHA-CHA, almost 600, and we also had more sponsors than ever before. It was truly a joint effort that shows how much our businesses and our community value Dayton Children's and the care the staff there provides for our most vunerable population."
"The Women's Board is committed to helping Dayton Children's provide even better care and brighter futures for the region's premature and critically-ill newborns," explains Laura Woeste, Oakwood resident and CHA-CHA co-chair. "It only takes a few minutes to see that the NICU is truly a miraculous place where the most fragile patients are surrounded by a team of doctors, nurses and specialists who provide loving, expert care with the most advanced technology in the region."
In 2013, Dayton Children's admitted 611 fragile newborns into the NICU. These families spent more than 8,700 combined days in the hospital, receiving care from pediatric specialists. As the Dayton Children's campus undergoes a renewal with the building of a new eight-story patient care tower, the new NICU will triple in size from the current space and will feature single family rooms, which will help to improve outcomes and provide an enhanced patient and family experience.
This is not the first time the Women's Board has supported the NICU. In 2011, CHA-CHA donated $330,000 to purchase 10 Giraffe beds. These special beds provide the latest technology and a healing environment for these fragile infants. The Women's Board and CHA-CHA also played a significant role in 1997 and 1999 to provide funds during the last renovation of Dayton Children's NICU.
The previous CHA-CHA event was held in May 2013. The event raised over $433,000 to fund the pediatric cancer and blood disorders care endowment fund. For more information, please visit www.chachadayton.com.
About the Women's Board
Formed in 1964, the Women's Board of Dayton Children's Hospital has a membership of 40 women whose major fundraising project is the biennial CHA-CHA dinner and auction. The Women's Board administers the HELP Fund, an ongoing program that supports various projects at Dayton Children's, hosts a Careers in Health Care seminar for high school students and volunteers in the Schear Activity Center. The Women's Board has raised over $4 million for Dayton Children's since 1964.
Throughout the years, they have provided funding to renovate the Newborn Intensive Care Unit (NICU), the Wallace Critical Complex and the Soin Pediatric Trauma and Emergency Center. They have raised funds to purchase two new pediatric transport units and to establish a Pediatric Cancer Care Endowment fund.
For more information, contact:
Stacy Porter
Communications specialist
Phone: 937-641-3666
newsroom@childrensdayton.org