3/26/15news article
teen basketball player shares how a concussion benched her
March Madness perfect time to highlight Brain Injury Awareness Month
It seems everyone has basketball on the brain right now but along with the madness, March is also Brain Injury Awareness Month. Even though it is not considered a collision sport, basketball players see their share of head injuries.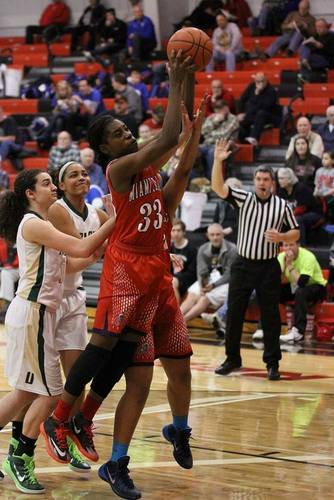 Jurnee Agbowu suffered a concussion when she collided with another player during a youth basketball league game last April. She blacked out for two seconds, but continued to play, thinking she was fine. During that same game, she suffered a second hit, as well.
It was only later that the 16 year old from Xenia realized there may be a problem. "I had really bad headaches and was tired all the time," Jurnee says.
"I knew there was something seriously wrong when my 'shopaholic' daughter only looked in two stores at the outlet mall on a trip to Orlando, then wanted to go back to the hotel," says April Eddie, Jurnee's mom.
Jurnee and her mom noticed changes in her mood, as well. "It was really bad," Jurnee says. "My mom would get upset with my attitude and I would say I'm sorry, I don't know what's going on."
"It is hard for a parent to figure out, too," says April. "She is a teenage girl. They sleep a lot and have a tendency to be dramatic anyway so you're not sure what's real."
When Jurnee joked at track practice the next week about how she may have a concussion, a trainer tested her. The results sent her immediately to Dayton Children's sports medicine department for treatment.
Treatment began with a two-day "blackout". That means no TV, no computer, no music, no talking – just rest. "Kids get really mad when we tell them they have to unplug entirely for 48 hours but when they come back later they realize how much their brain needed that rest to begin healing," says Lora Scott, MD, co-director of sports medicine at Dayton Children's Hospital.
Jurnee's trial wasn't over yet, though. She had to modify her schedule at the Miami Valley School, limiting the time she spent in class and the tests she took. She had to scale back on the court, as well. "We don't want kids to miss out on their normal routines, because that can cause them to lose their identity and lead to bigger problems like depression and anxiety," says Dr. Scott. "We allow them to participate in normal activities, like school and social gatherings, as long as they have no symptoms and are not in a position to be hurt again. The second the symptoms return, they need to start the mental rest again. Once symptoms are gone with all other activities, we start a sports return."
For Jurnee, this was the most trying time. "I would be sitting in class and just get a splitting headache. It was really frustrating because you think you are fine and then all of a sudden you are back to square one and you can't do anything. You feel like you can't get through it."
The determination Jurnee used on the court and in the classroom carried her through. It took about four months for her to heal completely. All that time, the sports medicine team at Dayton Children's was by her side. "They were really nice. I was mad and sad when I came to my appointments, but they were always welcoming and cheerful. No matter how weird my questions were, they knew how to help me. They assured me it was normal and that I would be okay. They were like family, kind of."
Now Jurnee is fully recovered and able to play all the sports she loves, from basketball to lacrosse. "I am happy it's over. I wouldn't want it to happen to anyone else. There were a lot of tears. It's not like hurting a finger, where you can still talk to people and you're still mentally okay. Once you go through it and you get better, you realize how blessed you are."
She has some advice for other teens who may try to play through after a hit to the head, like she did. "Once you get hit, sit down, even if you think it's nothing. Take it seriously. It's not just a headache. Listen to your body and sit."
For more information, contact:
Stacy Porter
Communications specialist
Phone: 937-641-3666
porters@childrensdayton.org