8/29/13blog post
a surprise hidden danger in our schools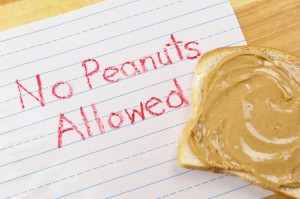 Several weeks ago, I was reading about a 13 year old young girl with a peanut allergy who accidentally was exposed to a rice crispy snack iced with peanut butter and chocolate. Even though she never swallowed the treat, and immediately spat it out, her exposure to the peanut butter was enough to put her in anaphylactic shock and cardiac arrest.
As the school year is starting, this peaked my curiosity as to how safe are our children in school?
Food allergies are on the rise. A study from Pediatrics in July 2011 found that 1 of 13 children suffers from food allergy in the US. More than 1 out of 3 of these children had a history of a severe reaction and 3 out of 10 children had allergies to multiple foods. The most common cause of food allergies in children include milk, egg, wheat, soy, fish, shellfish, legumes (peanuts), and tree nuts.
The study also quoted that common errors in the management of allergic reactions included, misreading ingredient labels, allergen cross-contact, purposeful exposure, underuse of EpiPens for severe reactions and lack of vigilance.
In the state of Ohio, as of August 13th, the current law does NOT allow EpiPens, a potential life saving treatment, to be in the school and "undesignated". The schools CANNOT have 'extra' EpiPens on hand to use in an emergency if a new allergy arises or a child forgets his/her EpiPen. Right now a parent must give permission for the school nurse to administer an EpiPen that's brought to school by the student.
With the growing number of children suffering from food allergies, the Ohio Association of School Nurses want access to an EpiPen that could be used for any student suffering from a severe allergic reaction to food or a bee sting. No legislation has been introduced yet, but the Ohio Association of School Nurses is working to draft a bill that could be introduced in the Ohio legislature this fall. Other states have similar laws in place.
what can you do to protect your child with allergies now?
Make sure your child is aware of his/her allergies. Discourage him/her from sharing food at the lunch table or snacks.
Recognize the signs of a severe allergic reaction: hives, facial swelling, itching, wheezing, and difficult breathing.
Ensure school officials/nursing staff is also aware of your child's allergies and has access to an Unexpired EpiPen
Early use of the EpiPen injected in the thigh muscle (for better absorption) is the most important step in managing anaphylaxis.
Call 911 and get the child to the hospital for definitive care.
Hyper vigilance is the key. It could save your child's life.
For more information visit the Dayton Children's website!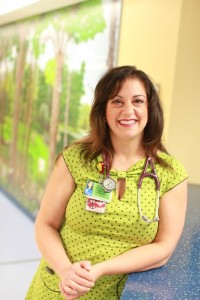 Dr. Abboud is a pediatric intensivist at Dayton Children's and the mother of three kids. As part of the "Dr. Mom Sqaud," Dr. Abboud blogs about her experiences as both as doctor and a mom and hopes to share insight to other parents on issues related to both parenting and kids health. Learn more about Dr. Abboud!
Fleischer DM, Perry TT, Atkins D et al. Allergic Reactions to Foods in Preschool-Aged Children in a Prospective Observational Food Allergy Study. Pediatrics 2012; 130; e25-e32.