1/24/17blog post
still time to get the flu vaccine
It's already January and the flu still hasn't become a major issue yet so there is still time to get your family vaccinated.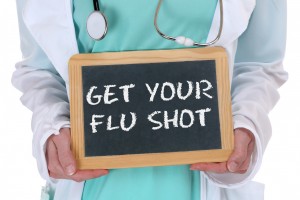 The infectious disease experts at Dayton Children's Hospital along with the American Academy of Pediatrics strongly advise parents of children 6 months and older to get their child a flu vaccination.
According to the CDC, more than 200,000 people, on average, are hospitalized from flu complications each year in the United States. Twenty thousand of those hospitalized are children younger than 5 years old.
"One of the best preventative measures for the flu is to get your child vaccinated," says Sherman Alter, MD, medical director of infectious disease at Dayton Children's.
Flu season is unpredictable and can begin as early as October, and can last through April. It takes about two weeks after vaccination for your child to be fully protected. That means getting the shot now can still protect your child for the rest of the year.
Flu Prevention – Stop it before it stops you
1. Get the flu vaccine.
2. Wash your hands well and often with soap and water.
3. Cover coughs and sneezes with a tissue.
4. Keep sick children at home including out of school or day care until they are better.
5. Eat healthy and find healthy ways to deal with stress and anxiety.
Recognizing the Flu – Common symptoms
1. Rapid onset of fever
2. Headache
3. Body aches
4. Loss of appetite
5. Chills and fatigue
6. Cough
7. Runny nose and sore throat
8. Vomiting and diarrhea
Treating the Flu – Simple tips
1. Offer plenty of fluids, from water to soup or even soft fruits. Fever can lead to dehydration.
2. Rest.
3. Give acetaminophen or ibuprofen for aches and pains. Do not give aspirin unless your doctor directs you to do so. Call a doctor before giving your child cough or cold medicine.
4. Dress your child in layers so you can add and remove layers during bouts of chills or fever.
5. Wash your hands thoroughly and often, especially after picking up used tissues.
"Since the flu is a virus, it cannot and should not be treated with an antibiotic," Alter reminds parents. "Viruses can really take a toll on an individual's immune system, so letting a child's body catch up on rest and re-hydrate is one of the best things you can do if they do get the flu!"