11/21/17blog post
special bond between one little boy and two employees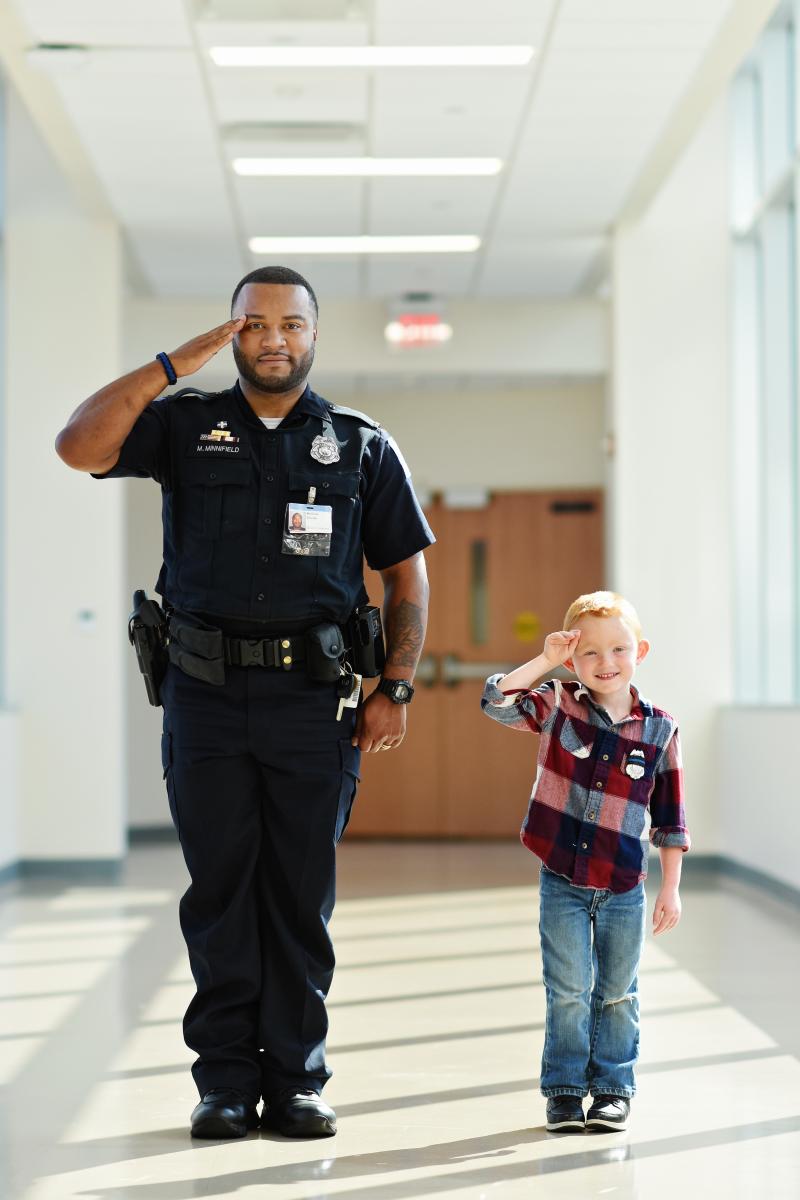 To meet 5-year-old Elijah, you would never know he was born with drugs and alcohol in his system and had to overcome many obstacles and developmental delays.
The rest of the world sees him as outgoing, adventurous, smart and creative. But Security Officer Ma'Chon Minnifield sees him as even more. "My little boy first met his officer buddy at Dayton Children's when he was 3 years old," says Sandra, Elijah's mom. "My son is obsessed with officers and wanted to meet them wherever he would go. During an appointment, he met Officer Minnifield. I gave him a brief background on Elijah's journey."
Elijah was placed in Sandra's custody at 4 weeks old and has been treated inpatient several times for respiratory issues.
"Officer Minnifield took to Elijah and I believe he has a special place in his heart for him," said Sandra. "As a matter of fact, I have proof. Officer Minnifield made a special visit to Elijah's
fourth birthday party and swore Elijah into the police force. He even brought him his own certificate and badge."
"I wanted to make his day special," says Ma'Chon. "He refers to me as 'cop-y,' which warms my heart." Shortly after meeting Officer Minnifield, Sandra attended a recruiting fair and was hired as a PCA in the NICU. "My oldest nephew was in the NICU, as well as my niece who was 3 months premature, so the NICU always had a place in my heart."
Fast forward one year later... Elijah's adoption was finalized May 2016.
"Officer Minnifield was not going to miss that and he didn't," says Sandra.
"I have to admit, I got a little teary-eyed at the adoption proceeding, I felt very honored that they asked me to be part of this special day for their family," says Ma'Chon.
Officer Minnifield's bond with Elijah continues to remain steadfast. "I have nothing but praises about this man because he proves that there are purely good-hearted people in this world who truly care," says Sandra. "He shows that officers go above and beyond the call of duty for even the littlest of people. He'll never be anything less than amazing to our family and to Elijah."