9/8/16blog post
rules for safety on the school commute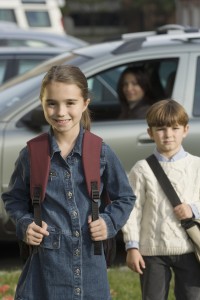 Whether you walk, ride or drive, be safe getting to school
School schedules are settling in, but don't let your children get too comfortable with the commute and cut corners on safety. Whether they walk, ride on a bus, in a car, or on a bike, or drive themselves, kids of every age need to follow the rules.
At the bus stop
School buses are the safest mode of motorized transportation for getting children to and from school, but injuries can occur if kids are not careful and aware when getting on and off the bus. Teach your kids to stand at least three giant steps back from the curb as the bus approaches. Wait for the bus to come to a complete stop before getting on, one person at a time. If your child has to cross the street to board or after exiting the bus, tell them to look both ways for oncoming traffic, make eye contact with the bus driver and wait for the driver's signal to cross in front of the bus. Never go behind the bus.
On a bike
A helmet is a must. Do not let your child on a bike without a helmet. Make sure it fits properly, as well. The helmet should be no more than two fingers above the eyes. Straps should make a v under the ears. Make sure helmet is snug when the child opens their mouth.
Walking the beat
Just like bike riding, walking to school is great exercise. Make sure kids know to cross the street at crosswalks and look left, then right, then left again to check for oncoming cars. Walkers and bike riders both should put down the cell phone and headphones. Music can block horns or other traffic noises that would warn of a dangerous situation. Texting can distract a walker or biker, making it easier to trip, fall or cross the street when it isn't safe.
In the car
Everyone in the car should buckle up – drivers, passengers, adults and children. Whether you drive your child to school or they carpool with another family, remind them to wait for the car to come to a complete stop before opening the door and getting out. School parking lots are crowded, busy spaces so make sure you are follow the school's drop off rules so your child doesn't have to dodge traffic to get inside.
Remind teen drivers that a car is not a toy, and showing off for friends behind the wheel can end in disaster. Have a formal contract that sets clear expectations and zero tolerance for speeding, alcohol and texting behind the wheel.
Adult drivers also need to be aware that more children are on the streets and sidewalks now. Stop when appropriate for school buses and slow down through intersections to watch for children crossing.