7/24/13blog post
a royal car seat blunder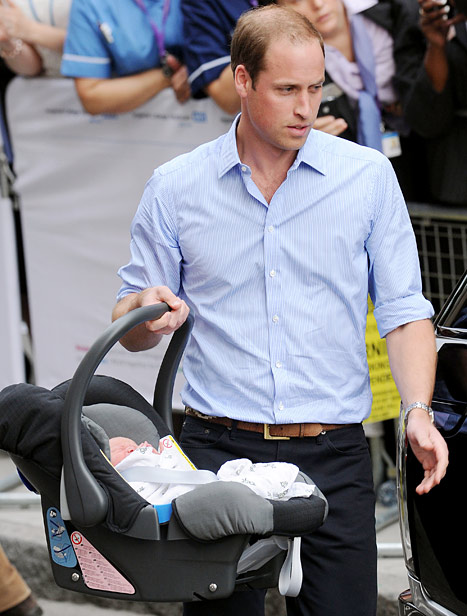 Credit: Stuart C. Wilson/Getty
It's hard not to get caught up in the excitement of the new Royal Baby. My colleagues and I were able to catch the exciting moment when Will and Kate emerged from the hospital with the new baby - truly glowing parents. It was beautiful to see how classy Kate continues to be as she honored Princess Diana by wearing blue polka dots, just as Diana did when she and Charles had brought out William for the first time.
Then I was so incredibly excited to see William come out with the little Royal - in a car seat! I couldn't help but think how times have changes - from previous royalty barely holding the new Royalty to today - where William was carrying the car seat. How modern!
But then, my excitement was crushed when close-up photos emerged of the car seat completely being used incorrectly. Now you can tell me they are first time parents, still learning, etc. but seriously...Kate had time to find blue polka dots - is it that hard to find a certified child passenger safety technician in Britain - or even to read the instructions on the car seat manual? I understand that their car won't be driving that fast and the motorcade protects them wherever they go - but for all the attention paid to ensuring the Royal was healthy - where is safety in the mix?
While I don't know all of the differences between British and American child passenger safety laws and car seats - I do know that by looking simply at this photo and applying my basic car seat safety tips - this little Royal isn't strapped in tight enough and I would have removed the blanket before putting him in there.
I've read a few other blogs and listservs from the child passenger safety world and it seems that the hospital where Kate delivered, may not have had any classes for child passenger safety either.
I'm sure Will and Kate will figure it out - hopefully sooner than later. They are like 90% of the families we see who have some sort of car seat misuse. At the end of the day, this instance shows that even Royalty can make "common" mistakes!