12/21/17news article
Rosie's Red Wagon Campaign donates wagons filled with toys and activities
Rosie's Red Wagon Campaign presented Dayton Children's Hospital with ten wagons filled with toys and activities donation. These items were purchased with funds generously donated by the Minster community and other surrounding towns/individuals.  These wagons make getting around the hospital easier and more fun for patients and their families.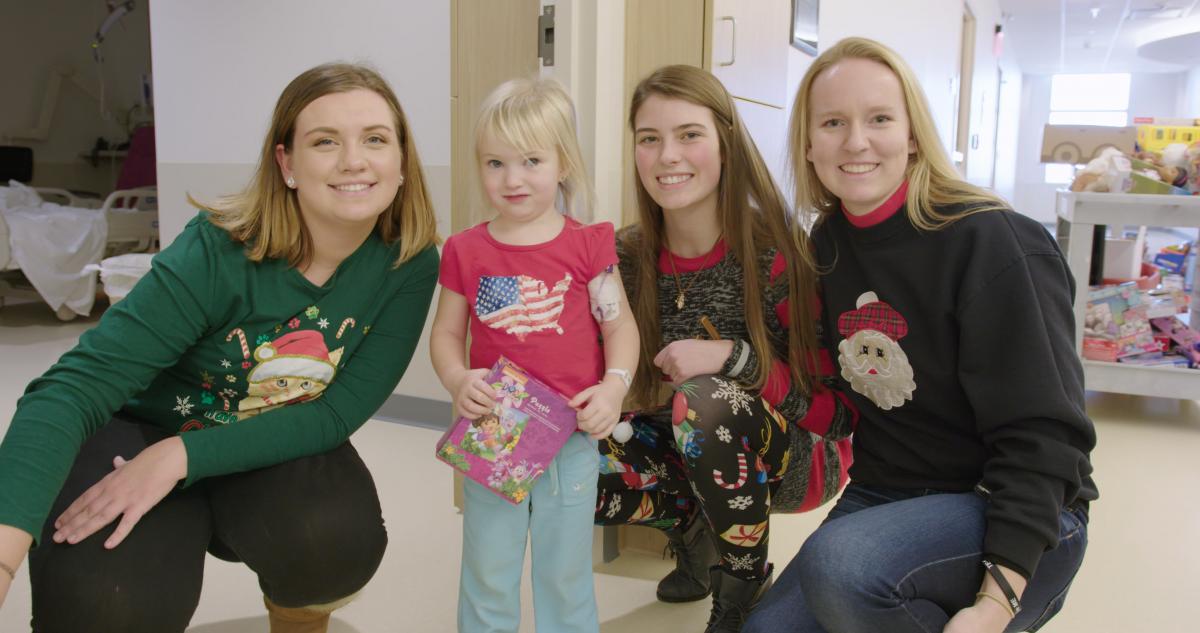 The founder of Rosie's Red Wagon Campaign, Rosie Westerbeck, sought the expert care of professionals at Dayton Children's Hospital when she faced a serious illness as a child. She specifically remembers receiving a blanket from a donor in the community. That blanket provided her with an "at home" comfort in an unfamiliar environment. That blanket gave her the hope to believe in a full, healthy recovery. As Rosie grew up, she never forgot about her experience at Dayton Children's, and she decided to give back to the care team that saved her life, and to give that same sense of security and hope to a new generation of patients.
Rosie has spent this year mentoring Minster High School's Youth Leadership Association to conduct their Red Wagon Campaign. Senior and head chairperson, Abby Brown, and junior co-chairpersons, Jessica Falk and Lily Pelletier have worked hard and enthusiastically to promote this project.
The Red Wagon Campaign also extended donations to Cincinnati Children's Hospital. St. Ursula Villa, an elementary school in Cincinnati, is conducting a Red Wagon Campaign to benefit the patients near it. Rosie will be mentoring the student council to conduct this project. They will be donating four wagons, in addition to toys and activities for the patients.
"Dayton Children's Hospital has a special place in my heart. I simply want to help those who are facing similar struggles that I endured. My project is very simple, yet has the ability to empower an individual to keep fighting. And that's what inspires me to continue this program. It is all thanks to the generous people who sponsored wagons and donated items. It would not have been possible if it wasn't for the help of such a wonderful community," says Rosie Westerbeck, founder and Minster High School alumna.
"We are so thankful for the generous donation from Rosie's Red Wagon Campaign," says Karen Muller, child life manager at Dayton Children's Hospital.  "It's making life a little bit more comfortable, a little more like home and a little more fun for hundreds of children every year."