8/27/21news article
Platinum status breastfeeding friendly workplace: first in Montgomery county!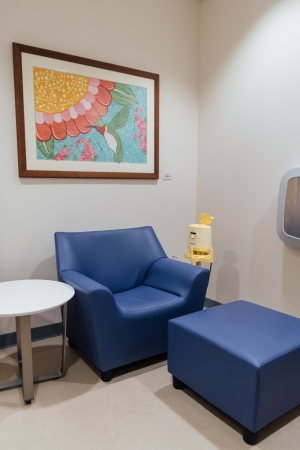 Dayton Children's was recently awarded platinum status as a breastfeeding friendly workplace! Dayton Children's is the first hospital in the Dayton and Montgomery County region to earn this designation. 
The award, distributed by EveryOne Reach One (Dayton & Montgomery County's maternal and infant vitality task force), recognizes employers who go above and beyond the legal requirement to support lactating individuals in our community. These legal requirements include distributing reasonable break time for an employee to express breast milk at work and providing a private place, other than a bathroom, to do so.
Through the neonatal intensive care unit's lactation consultants and lactation clinic, Dayton Children's has actively supported breastfeeding and lactation in the Miami Valley Region for many years. The NICU is committed to providing low birth weight babies 100 percent human milk, by encouraging every NICU mother to provide her own milk for her baby or, if necessary, the use of donor milk through a partnership with the Mother's Milk Bank of Ohio. 
Dayton Children's medical insurance covers the cost of a personal electric breast pump. The hospital provides staff with two breastfeeding rooms and 11 lactation rooms with hospital-grade electric breast pumps to accommodate pumping. 
"Our hope is that this designation raises awareness within our organization that Dayton Children's wants to support employees (and their partners) in providing breastmilk/human milk to their children," said Alison Ruffin, clinical nutrition and lactation manager. "We are proud of the many ways we positively support lactating employees and are humbled by the feedback on opportunities for improvement."
Supporting breastfeeding at work is critical to influencing low lactation rates, which are both a health and health equity issue. Breastfeeding is directly linked to health benefits for mothers and their children. For example, it decreases the child's chance of infant mortality, leukemia, celiac, obesity and late onset sepsis. It also decreases mom's chance of breast and ovarian cancer, post-partum depression and cardiovascular disease.
"As Dayton Children's improves support systems for those who choose to breast/chest feed, we will change the trajectory of negative health issues associated with lack of human milk for both baby and mom," said Rachel Riddiford, clinical nutrition and lactation director
Organizations can apply for a breastfeeding friendly workplace status and are awarded as a silver, gold or platinum status workplace. These statuses are determined based on a point system that grade the employer's breastfeeding policies, resources and facilities. This year, only two applicants received platinum status. For more information, click here.
"As a mother of two who is currently breastfeeding, I am grateful to work for an employer that supports it," said Alison.