5/8/15news article
nurses honored for excellence during National Nurses Week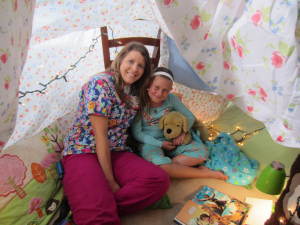 A child's nurse is more than just a care provider, giving medication and taking temperatures. A nurse is a friend, a confidant, a champion. A nurse is a comforting face during a scary procedure and provides the high five after it's over. A nurse is a hand to squeeze in the tough moments, a shoulder to lean on, the boost a child needs when it's hard to keep going. Nurses are there to commiserate about the bad and celebrate the good.
Dayton Children's Hospital honored several outstanding nurses for those contributions during National Nurses Week – May 4-10, 2015. These awards are given each year to nurses nominated by other hospital employees for excellence in nursing.
2015 Excellence in Nursing award winners: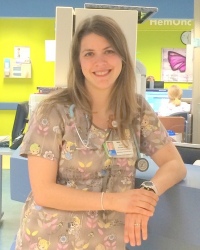 Karen McConnell, RN, CPEN, emergency department - Advocacy/Moral Agency
Sara Hihn, RN, three east - Caring Practices
Sheryl Powell, BSN, RN, pulmonary - Clinical Inquiry
Merissa Eley, BSN, RN, Almost Home Unit - Clinical Judgment
Leora Langdon, MS, RN, CPNP-PC, pulmonary - Collaboration
Nikkia Whitaker, BSN, RN, CCRN, pediatric intensive care unit - Facilitator of Learning
Elaine Markland, BSN, RN, CPEN, emergency department - Response to Diversity
Bethany Linegang, MSN, RN, infection preventionist - Systems Thinking
Rachel Latimer, RN, gastroenterology - Outstanding New Employee
Francesca Couser, BSN, RN, perioperative services - Outstanding New Graduate
2015 Cameo of Caring Nursing Award:
The Cameo of Caring award is the highest honor given during Nurses Week. This year's winner knows how important a child's nurse is when he or she is in the hospital, because she was a patient at Dayton Children's, too.
Erica Yanney says her stay at Dayton Children's when she was 12 years old was so influential, that she knew she wanted to be a pediatric nurse. "When my best friend would come to visit me, the nurses would call us 'trouble' and 'more trouble,' while checking to make sure all our needs were met. That weekend has defined a large portion of my life. The Dayton Children's nurses made all the difference - they defined my patient experience."
For the past seven years, Erica has been making that difference for her patients at Dayton Children's. "My goal as a nurse is for the child and their family to know that they are truly cared about on a human level. The best part of my job is making what could be a very scary experience of being in the hospital something that kids want to share with their friends."
Erica says she takes a personal interest in every one of her patients. "We have one teenager who comes every couple of weeks. She lights up when I ask her to show us her cheerleading routines. With another patient, the running joke is that our unit doesn't allow fun. So before each visit, we hang a sign in his room stating "No Fun Zone."
While they may have to endure the unpleasantness of a test or procedure, Erica says the atmosphere and friendly faces can make the entire stay something they will remember, instead of something they endured. "For my repeat patients, I hope to make their visits something to look forward to, instead of something they dread."
Awards aren't new to Erica - she's been nominated for a Caring Practices nursing excellence award and been honored with a Daisy Award for her compassion and caring. She's also a Certified Pediatric Nurse, a Pediatric Advance Life Support provider and an Association of Pediatrics Hematology/Oncology Nurses chemotherapy provider in the division of General Pediatrics.
But awards and honors come down to two things: the patients and families. Emma Becker is one of those patients who has formed a special bond with Erica. "I like Erica because she's weird and I'm weird and we just get along," says Emma.
"Erica is great with Emma because they are feisty together!" says Emma's dad, Mark. "Erica always has everything under control without looking like she has to try. She comforts Emma during every procedure, so at the end we remember her and not the painful procedure."
Congratulations to Erica Yanney as the 2015 Cameo of Caring award recipient and all Dayton Children's Excellence in Nursing award winners.
Our Very Best
You may not expect us there, and you may not even realize how close we've grown to you. But in the end, we find ourselves right where we want to be - part of your family. We are experts, advocates, educators, protectors, healers, and even entertainers. We… are Dayton Children's nurses.
For more information, contact:
Stacy Porter
Communications specialist
Phone: 937-641-3666
newsroom@childrensdayton.org