5/7/14news article
nurses honored during nursing week celebration
Dayton Children's Hospital recently honored several outstanding nurses for their contributions during the annual Nurse's Day celebration on Wednesday, May 7. These awards are given each year to nurses who were nominated by other hospital employees for excellence in nursing. May 4-10, 2014 was National Nurses Week.
Excellence in Nursing Award winners
Advocacy/Moral Agency Award – Ann Marie Schmersal, MS, RN, CPNP-AC – General Pediatrics
Facilitator of Learning Award – Heather Seifert, BSN, RN, CPN – House Float
Collaboration Award – Karen Federici, MS, RN, PCNS-BC, CPN – Pediatric Intensive Care Unit
Outstanding New Graduate – Ivy McClenahan, BSN, RN – Hematology/Oncology
Clinical Judgment Award – Jody Young, RN – Emergency Department
Clinical Inquiry Award- Jessica Cockerham, BSN, RN, CPN – House Float
Caring Practices Award – Shannon King, BSN, RN – General Pediatrics
Systems Thinking Award – Nicole Schneider, BSN, RN – Quality Resource Management
Outstanding New Employee – Jessica Gearhardt, RN – Emergency Department
Response to Diversity Award – Rachel Ross, BSN, RN, CPEN – Emergency Department
Outstanding Transformational Leader – Cindy Burger, MS, RN – Administration
cameo of caring
Lisa Jasin, MS, RNC-NIC, NNP-BC, was awarded the prestigious Cameo of Caring Award for 2014. Jasin is a nurse in the neonatal intensive care unit and has been working at Dayton Children's since 2006.
"Lisa is an excellent example of everything a Cameo of Caring Nurse winner should be," says Renae Phillips, MSN, RN, NEA-BC, FACHE, vice president of inpatient care services and chief nurse executive. "She is knowledgeable and truly a professional in every way. She gives of herself from the heart, which is a gift to all of us who work with her."
After 14 years as a registered nurse and 10 years as a Captain in the United States Air Force, Lisa decided to pursue a master's degree in nursing and an advanced practice degree as a neonatal nurse practitioner.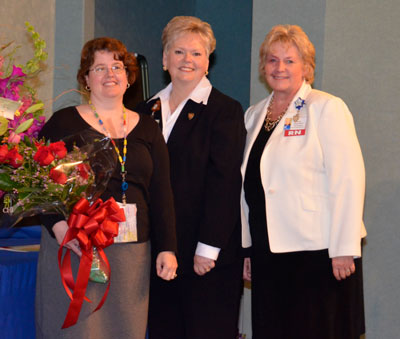 She has always been respected and admired for outstanding clinical skills, but also for her work as an NRP instructor, teaching nursing and medical students. In fact, awards aren't new to Lisa; she was named "Pacific Air Force Nurse of the Year" in 1994.
Currently, at Dayton Children's, she is not only known as an expert clinician, but is involved in many projects at the local and state level. Lisa is leading the State of Ohio initiative for the Neonatal Abstinence Project to improve care and implement consistent protocols for caring of narcotic addicted babies.
Through her work here at Dayton Children's, the length of stay for these babies has decreased from 42 days to 14 days. These protocols include not only pharmacologic and non-pharmacologic interventions, but also looks at the caregiver's attitude towards caring for some of the most challenging babies and families that are cared for in the NICU.
Additionally, Lisa is one of the leaders and mentors to other staff in the "spirit of inquiry" at Dayton Children's. She has been trained in evidence-based practice and co-leads the evidence-based practice committee as part of our Shared Governance Model.
Lisa will also be completing her doctoral degree in nursing at Wright State University in December and will be the first doctoral prepared nurse at Dayton Children's!
For more information, contact: 
Grace Jones 
Marketing Communications Coordinator 
Phone: 937-641-3666 
marketing@childrensdayton.org