7/30/10news article
new services and accreditation at dayton sleep center
one of a kind, with more kinds to offer
what's new at our Dayton Pediatric Sleep Center?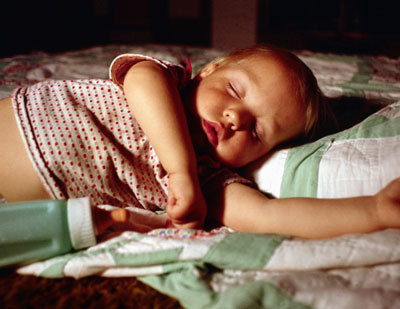 The Children's Medical Center of Dayton has added behavioral sleep medicine and a new Airway Management Clinic to their full range of primary and specialty health care services for infants, children and teens.
Dayton Children's has teamed up with Nationwide Children's physicians Meredith Merz, MD, and Richard Kang, MD, to provide care close to home for children with airway conditions.
The new specialty service is held at Dayton Children's on the second Friday of each month, and the next clinic will be held Friday, August 13. Clinics are held in the morning and surgeries are performed in the afternoon.
"We are now able to provide care for these kids with complex airway issues right here in Dayton rather than having to send the families to another facility," said Karen Stormer, administrative manager for ambulatory services at Dayton Children's. "It's more convenient for the kids and families."
In addition to the airway management clinic, Dayton Children's accredited Pediatric Sleep Center is now offering expert services from Zach Woessner, PsyD, pediatric clinical psychologist. Dr. Woessner works with parents of and cares for children with behavioral sleep conditions including nightmares, bedtime stalling, apnea and more.
The behavioral sleep medicine service is provided every Tuesday afternoon in the sleep clinic at Dayton Children's.
"Some children, especially 2 to 6 year olds, have behavioral sleep issues," said Dr. Woessner explained. "We are excited to provide this new service in order to help the parents and the child address the issues before they get worse. It's very important for kids to get adequate sleep while they are growing and developing."
Dayton Children's is one of only a small number of facilities in the country to offer behavioral sleep medicine services.
For questions about either of these services, contact the pulmonary department at 937-641-3376 or the Sleep Center at 937-641-5004.
accreditation
The echocardiography laboratory at Dayton Children's recently received accreditation for
Transesophageal Echocardiography from the Intersocietal Commission for the Accreditation of Echocardiography Laboratories (ICAEL). This accomplishment establishes the laboratory as the only one in the Miami Valley region to achieve the status of full accreditation in all three modes of pediatric echocardiography (fetal, transthoracic and transesophageal).
Accreditation recognizes Dayton Children's echocardiography laboratory as one which is committed to quality assurance, meaning doctors and their patients are receiving the most accurate diagnosis in a timely manner. The accreditation of the echocardiography laboratory at Dayton Children's was led by Lubabatu Abdurrahman, MD, Jenny Pfahl and Ruth Batson.
Related information:
Zachary Woessner, PsyD
For more information, contact: 
Marketing Communications Department 
Phone: 937-641-3666 
marketing@childrensdayton.org