3/24/15blog post
a new role - Dietitian in a pediatric office
Dear reader –
I would like to share my new position at Dayton Children's Hospital with you! The past 15 months have been busy creating it with a colleague of mine, Marisa VanSchuyver. You see, if you remember, I was working as the Pediatric Intensive Care Unit dietitian when I started writing Activities to Zucchini. I, with Marisa, took a risk in September 2013 and embarked into a dynamic program: Dietitian Liaison.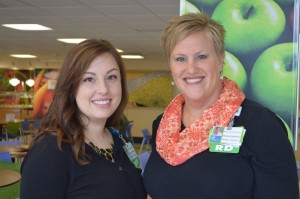 What is a dietitian liaison? The dietitian liaison showcases the clinical dietitian as the nutrition expert for area pediatrician offices. We provide nutrition classes to patients and families and provide support to the doctors and nurses on nutrition problems. Additionally, we help to connect community resources and these offices so patients and families can make the most of their own neighborhood. We know many people in our region are working to improve the health of children; we help to connect the dots and unite our services.
Why did Dayton Children's create this program? This position was created in response to doctors' requests and fits into many of Dayton Children's goals. Marisa and I took a risk because this was a grant funded (through the Dayton Children's Foundation), 18 month trial. With our team and the partner doctor offices, we figured out the best way to provide the services they needed. We surpassed all our 18 month goals by the 12 month mark, most several months before that. And, now, the program is becoming a permanent position! Our partners appreciate the impact we are making!
Does my pediatrician office have this service? At this time, Marisa and I are servicing a handful of pediatrician offices. We continue to connect community resource "dots". As time marches on, we will know how we can grow and provide our services to more office groups.
So, you see, Dayton Children's forward thinking and Healthy Way movement has provided me with another avenue in providing my nutrition passion and knowledge to others. I am grateful and excited for what 2015 brings. Please continue to read and enjoy Activities to Zucchini. And, maybe I will see you in a class!
Your nutrition expert,
Becky